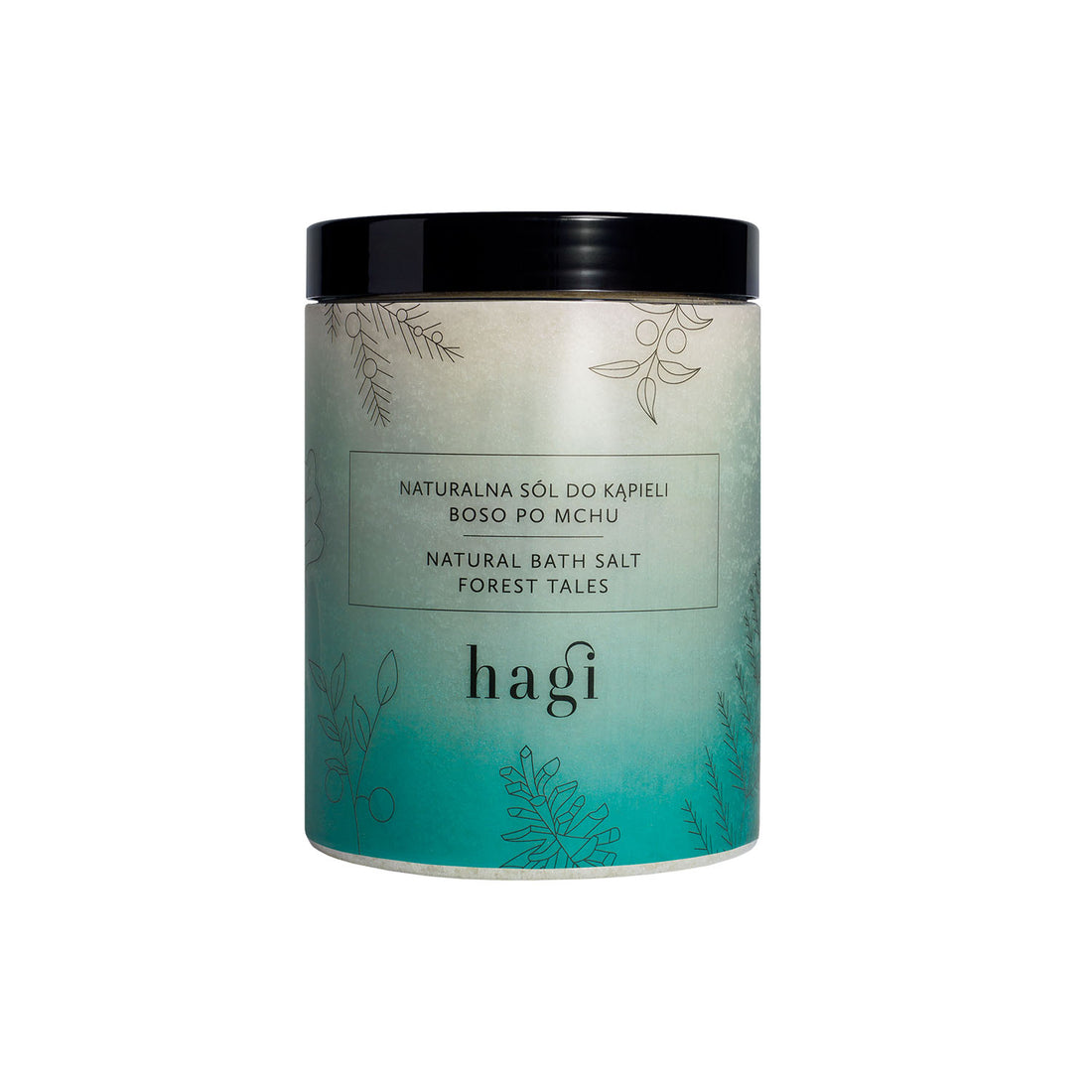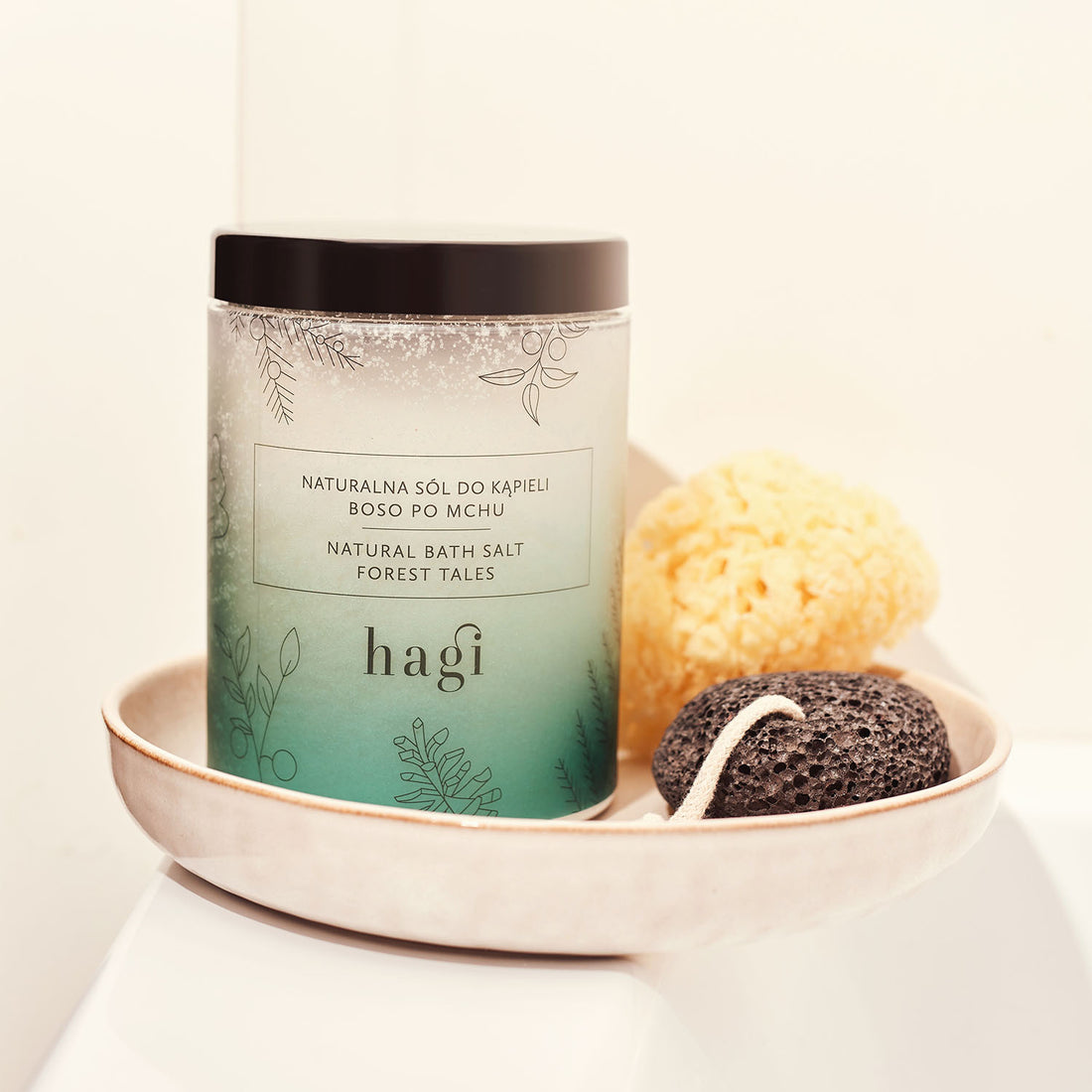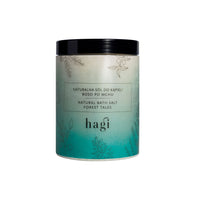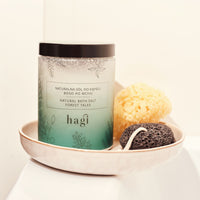 Hagi - Forest Tales Bath Salt
Natural Bochnia bath salt rich in bio-elements protects, regenerates and nourishes the skin. It contains natural birch beechwood extract, which nourishes the skin and stimulates the senses. A warm bath in a salt solution with a carefully selected fragrance brings relief, relaxes, cleanses and nourishes the skin and removes the feeling of fatigue.

The salt is scented with amyris, cedar, fir, orange, tangerine and cinnamon leaves.

Effects: Relaxing , cleansing, nourishing the skin and removing fatigue

Size: 1200g
Sodium Chloride, Parfum, Abies Sibirica (Firneedle) Oil, Glycerin, Barosma Betulina (Buchu) Leaf Extract, Water, Cinnamyl Alcohol, Eugenol, Limonene
Active Ingredients:
Amyris oil
Obtained by steam distillation of small fragments of wood from the amyris tree that grows in Haiti. It has a very persistent, warm balsamic/resinous fragrance similar to that of sandalwood oil and is often confused with it. It has even acquired the name "West Indian Sandalwood." Amyris oil is noteworthy for its ability to counteract nervous tension and stress. It is an excellent natural relaxant, as well as a natural repellent - an insect repellent.

Cedarwood Oil
Extracted by steam distillation of small pieces of wood of the cedarwood tree, which grows in North America. The oil has a woody and balsamic aroma, reminiscent of the smell of wet fresh-cut wood. In aromatherapy it is used for depression, but also for colds. It fights acne, reduces stress and tension. It is helpful in combating cellulite.

Fir Oil
Smells beautifully of warm forest and resin. It is obtained by steam distillation of the needles and twigs of the white fir found in Europe, Asia and America. Very helpful for upper respiratory infections, menopause, mental heaviness. It has a tonic - stimulating effect, eliminates unpleasant odors. It is a frequent component of men's perfumes.

Tangerine Oil
Obtained by pressing the incompletely ripe peels of the fruit of the mandarin tree grown in the Mediterranean Basin, America and Asia. It is characterized by a fresh, sweet, fruity fragrance. It is an ingredient in citrus-fruit fragrances in perfumes and an aroma in the food industry. It has a beneficial effect on moods. It is recommended for insomnia, nervous tension and nausea.
H-armony | A-ffirmation | G-reen | I-nspiration
Hagi
Hagi is a Polish company, combining love for nature with longterm experience and extensive knowledge of chemistry. Our products respond to the varied needs of a contemporary consumer. They cater for the skin issues resulting from the present-day lifestyle causing allergies, dehydration, and premature aging.
Our Philosophy