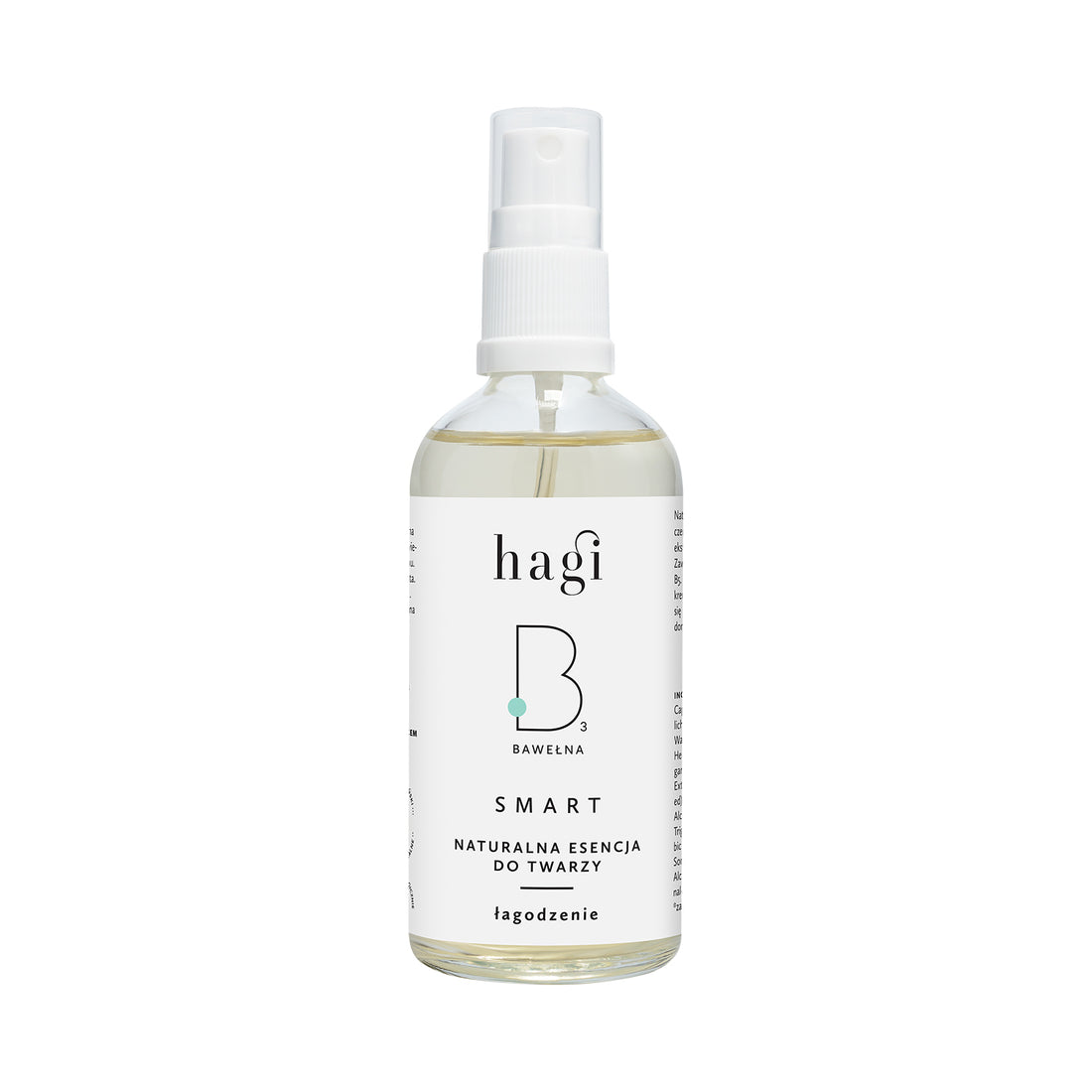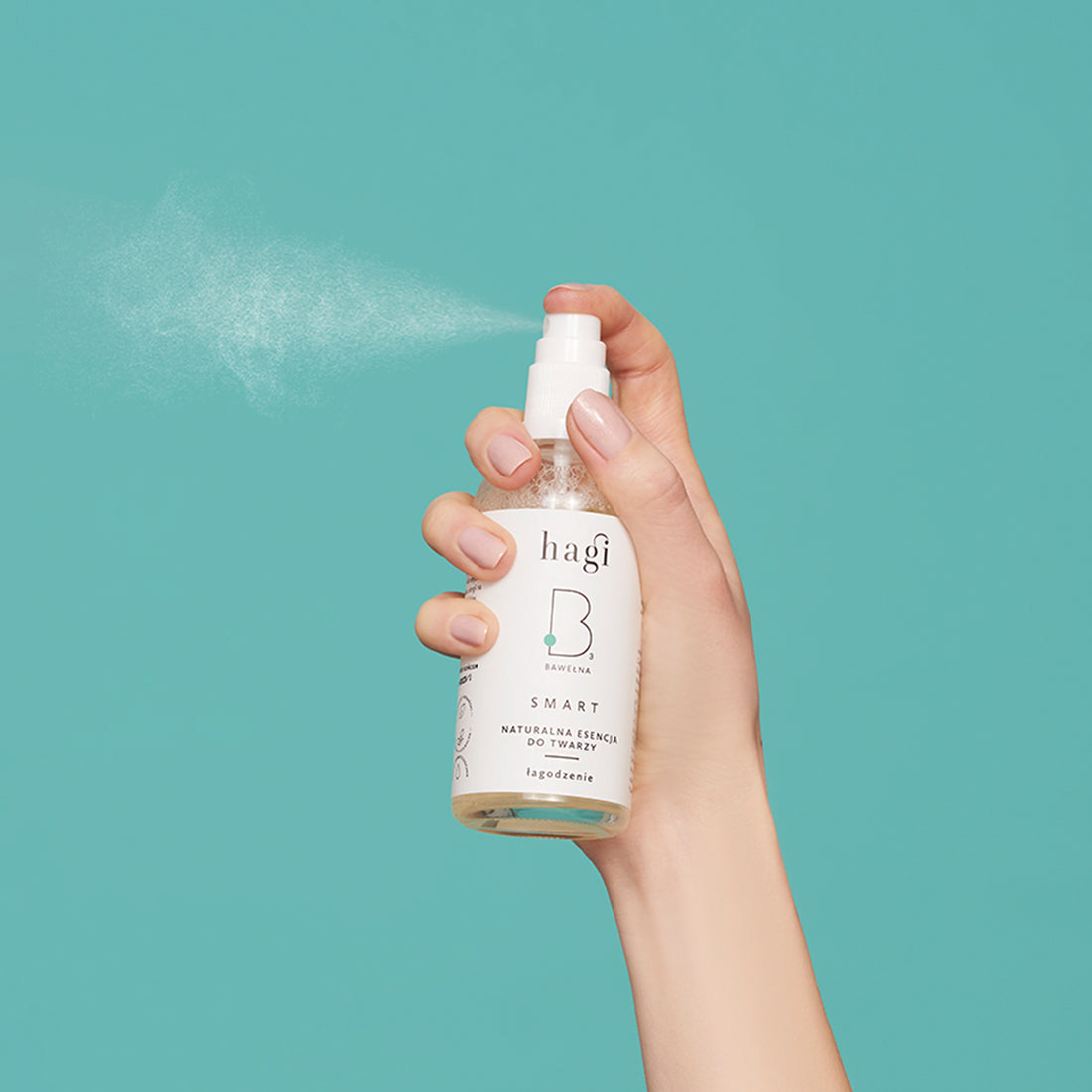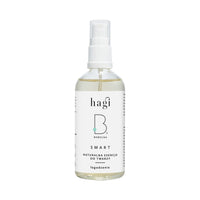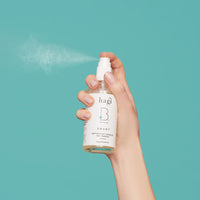 Hagi - Smart B - Natural Soothing Essence With Bamboo
This mixture is based on immortelle hydrolate, excellent for dry and demanding skin. It contains ingredients that soothe the skin and speed up the healing of wounds. The essence can be used for problematic, acne-prone, and allergy-prone skin. For even better effects, we added d-panthenol that intensely soothes and cares for the skin. This product also contains oat protein hydrolysate and cotton extract which lock moisture in the skin.
Size: 100ml
Aqua, Polyglyceryl-6 Caprylate, Polyglyceryl-4 Caprate, Helichrysum
Italicum (Immortelle) Flower Water, Glycerin, Panthenol, Gossypium Herbaceum Seed Extract, Bambusa Vulgaris (Common Bamboo) Leaf/Stem Extract, Linum Usitatissimum (Linseed) Seed Extract, Parfum, Citric Acid, Alcohol, Tocopherol, Caprylic/Capric Triglyceride, Ascorbyl Palmitate, Ascorbic Acid, Sodium Benzoate, Potassium Sorbate, Dehydroacetic Acid, Benzyl Alcohol*, Citronellol*, Limonene*, Linalool*, Coumarin*. *Contains allergen.
Active Ingredients:
Bioferment From Bamboo
An exotic and natural alternative to silicone. It perfectly moisturises the skin. It has the task of restoring the microflora on the skin's surface, nourishes, regenerates the skin and strengthens its protective barrier. Bamboo is rich in many beneficial nutrients such as flavonoids, amino acids, minerals. As a result, it has anti-ageing, moisturising, antioxidant and collagen-stimulating effects on the skin.

Cotton Extract
Obtained from cotton seeds is a rich source of flavonoids, tannins and mineral compounds, as well as essential fatty acids. It contains vitamin E, thus providing protection against free radicals. It has a shielding and nourishing effect on overly sensitive and malnourished skin, also treating skin lesions.

Helichrysum Hydrolate
Has a moisturising and anti-inflammatory effect, and is therefore excellent for healing wounds, fresh scars and micro-damage to the epidermis. Blossom is also recommended for skin affected by rosacea.

D-panthenol
An effective soothing ingredient.
Method of Use
Use as a toner, a refreshing mist during the day and/or as a base for a massage with SMART oils.
Do not use if you are allergic to any of the ingredients. Store in a cool, dry place.
H-armony | A-ffirmation | G-reen | I-nspiration
Hagi
Hagi is a Polish company, combining love for nature with longterm experience and extensive knowledge of chemistry. Our products respond to the varied needs of a contemporary consumer. They cater for the skin issues resulting from the present-day lifestyle causing allergies, dehydration, and premature aging.
Our Philosophy