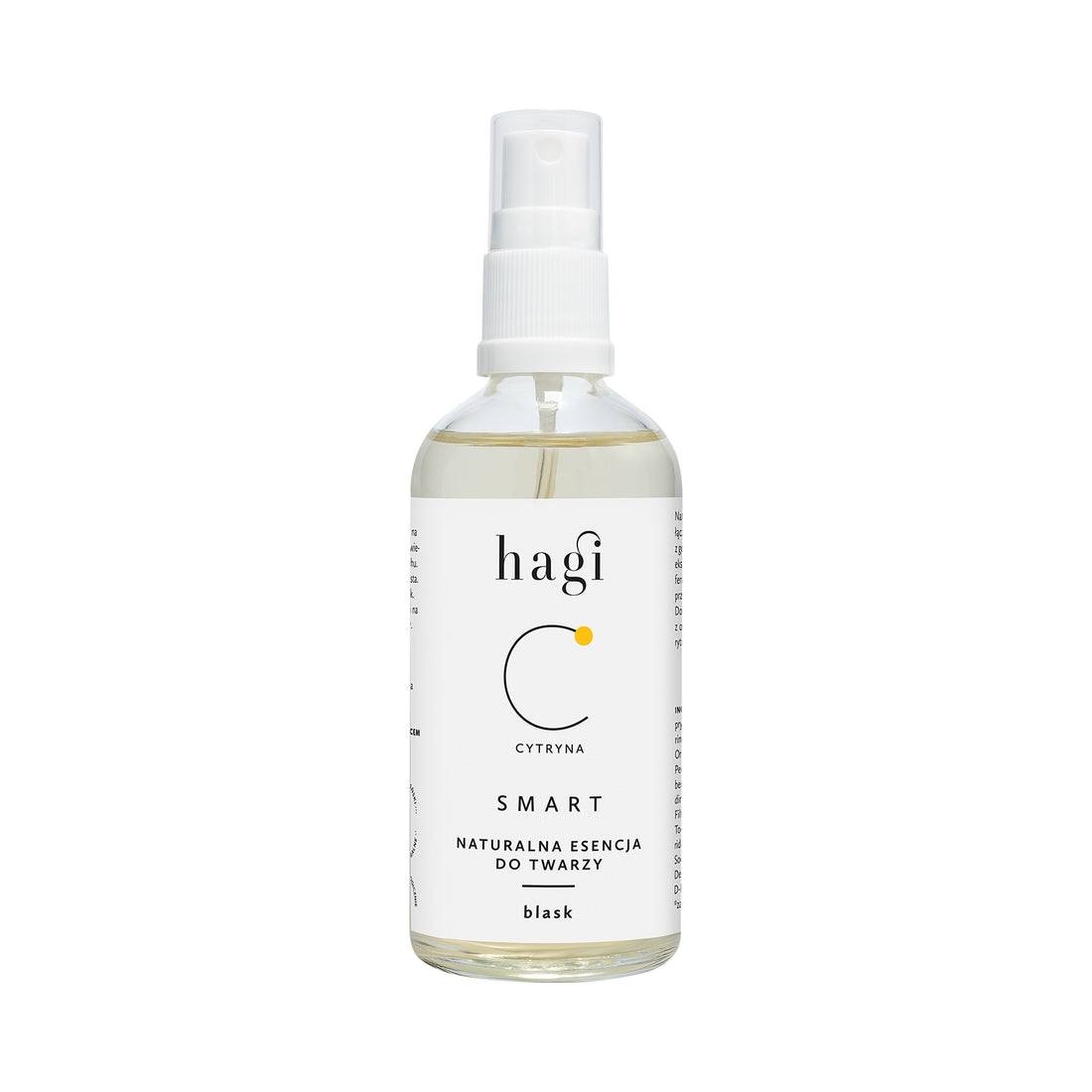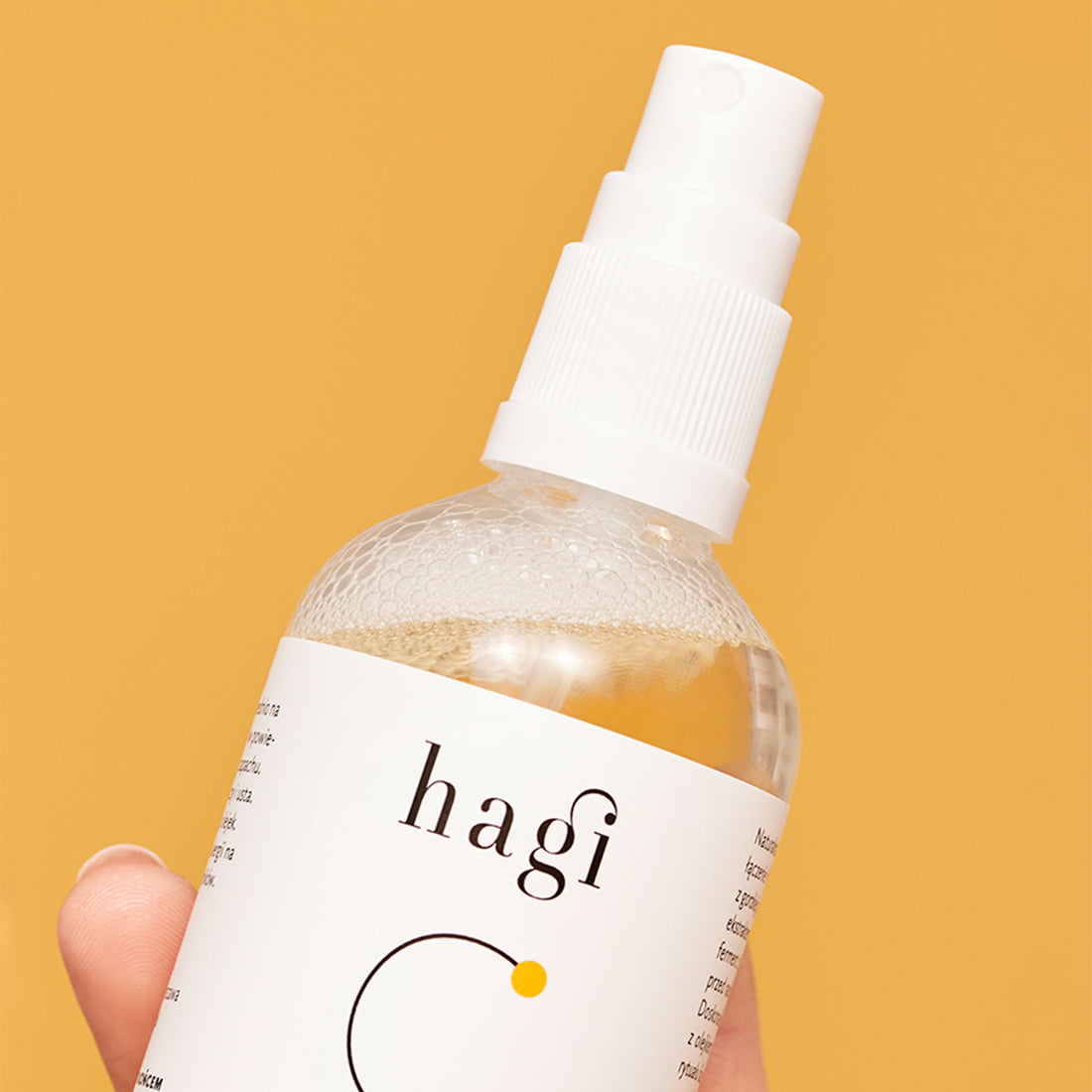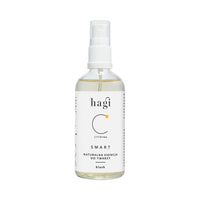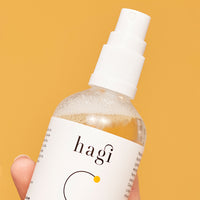 Hagi - Smart C - Natural Brightening Essence With Citrus
To add radiance to your skin and energize it, use this mix of different citrus waters. This combination of lemon and orange flower waters gives an energy boost, freshens up, tones, and evens out the skin tone. The addition of cucumber extract supports the citruses while vegetable glycerin takes care of the moisturizing, and bamboo bio ferment (often called "plant-based silicone") offers probiotic support and leaves a silky smooth finish.
Size: 100ml
Aqua, Polyglyceryl-6 Caprylate, Polyglyceryl-4 Caprate, Glycerin, Citrus Aurantium Amara (Bitter Orange) Flower Water, Citrus (Lemon) Peel Water, Cucumis Sativus (Cucumber) Fruit Extract, Lactobacillus/Arundinaria Gigantea (Bamboo) Ferment Filtrate, Parfum, Citric Acid, Alcohol, Tocopherol, Caprylic/Capric Triglyceride, Ascorbyl Palmitate, Ascorbic Acid, Sodium Benzoate, Potassium Sorbate,
Dehydroacetic Acid, Benzyl Alcohol*, D-limonene*, Linalool* *Contains allergen.
Active Ingredients:
Bioferment From Bamboo
An exotic and natural alternative to silicone. It perfectly moisturises the skin. It has the task of restoring the microflora on the skin's surface, nourishes, regenerates the skin and strengthens its protective barrier. Bamboo is rich in many beneficial nutrients such as flavonoids, amino acids, minerals. As a result, it has anti-ageing, moisturising, antioxidant and collagen-stimulating effects on the skin.

Lemon Hydrolate
Produced by steam distillation of lemon peels, which are rich in antioxidant flavonoids and minerals. It is particularly recommended for oily and combination skin. It refreshes and brightens the skin allowing the senses to be refreshed as well.

Orange Hydrolate
Produced by steam distillation. Its characteristic scent refreshes and allows the skin and senses to be energised. The plant water from this citrus fruit has antiseptic and moisturising effects. Orange hydrolate also strengthens blood vessels.

Glycerine of Vegetable Origin
An effective moisturising ingredient.
Method of Use
Use as a toner, a refreshing mist during the day and/or as a base for a massage with SMART oils.
Do not use if you are allergic to any of the ingredients. Store in a cool, dry place.
H-armony | A-ffirmation | G-reen | I-nspiration
Hagi
Hagi is a Polish company, combining love for nature with longterm experience and extensive knowledge of chemistry. Our products respond to the varied needs of a contemporary consumer. They cater for the skin issues resulting from the present-day lifestyle causing allergies, dehydration, and premature aging.
Our Philosophy