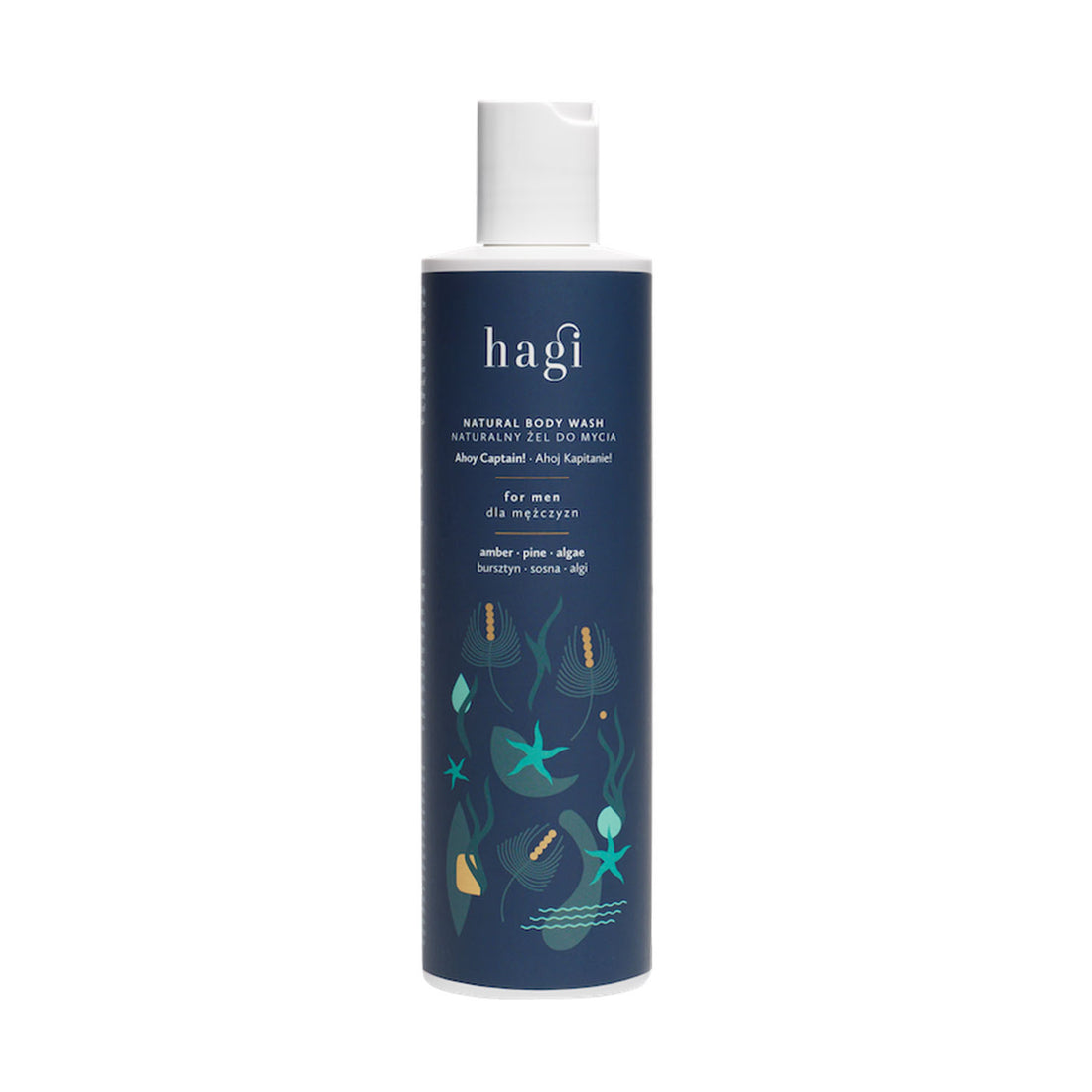 Hagi - Natural Body Wash [Ahoy Captain!]
Are you ready for a refreshing cruise?
No matter if you take a short, stimulating shower or a long, evening bath, we know that to raise the sails you need to be full of strength and energy.

That's why we have for you a complex of marine extracts – from algae, pine and amber – to invigorate your senses for the entire day or night.
The delicate washing ingredients will cleanse the body, and the extraordinary scent will stay with you for long.

Effects: cleansing & invigorating
Size: 300ml

Aqua, Cocamidopropyl Betaine, Sodium Coco-Sulfate, Decyl Glucoside, Glycerin, Parfum, Panthenol, Inulin, Aloe Barbadensis Leaf Juice, Ascophyllum Nodosum (Red Alga) Extract, Pinus Sylvestris Bud (Pine Bud) Extract, Amber Extract, Alcohol, Tocopherol, Caprylic/Capric Triglyceride, Ascorbyl Palmitate, Ascorbic Acid, Citric Acid, Sodium Benzoate, Potassium Sorbate, Dehydroacetic Acid, Benzyl Alcohol, Alpha Isomethyl Ionone
Active Ingredients:
Algae
The word may remind most of us of sushi ;) – something with a weird texture, smell, and color. But carrageen moss extract, Irish moss, carrageen or carrageenan (these are other names for this ingredient) restores the hydromineral balance of the skin and adds to its suppleness by boosting its hydration. Carrageenan also supports skin's protective barrier, fights free radicals, and restores skin tissue, helping it maintain a healthy and youthful look.

Aloe Leaf Juice
Used in the food and beauty industry, especially in the Canary Islands, where it's the main ingredient of their cosmetics. Extracted from the leaf pulp, aloe leaf juice is a source of many precious substances. The name itself sounds soothing. The moisturizing and calming properties of aloe leaf juice have been known for centuries. Aloe contains mineral substances and vitamins A, C, and B, as well as glycoproteins, polysaccharides that create mucilage, antranoids, and aminoacids. In cosmetics, aloe acts primarily as an enhancer of the protective barrier of the epidermis, a supporter of the skin's healing processes, and as a softening, screening, and dryness-preventing agent. It is a powerfully concentrated "gel serum."

Amber extract
Amber is a resin derived from tertiary conifers. It has long been used in folk medicine as an anti-inflammatory and anti-rheumatic agent. In cosmetics, it is used for intensive care of dry skin. Being a strong antioxidant, it prevents free radicals, regenerates the skin and restores its healthy appearance. It is a natural UV filter.
Method of Use
Suitable for normal skin.

Apply the Body Wash Gel to the palm of your hand and lather, then wash all over the body or pour into the bath to create a warming and aromatic bath. Use externally.
H-armony | A-ffirmation | G-reen | I-nspiration
Hagi
Hagi is a Polish company, combining love for nature with longterm experience and extensive knowledge of chemistry. Our products respond to the varied needs of a contemporary consumer. They cater for the skin issues resulting from the present-day lifestyle causing allergies, dehydration, and premature aging.
Our Philosophy