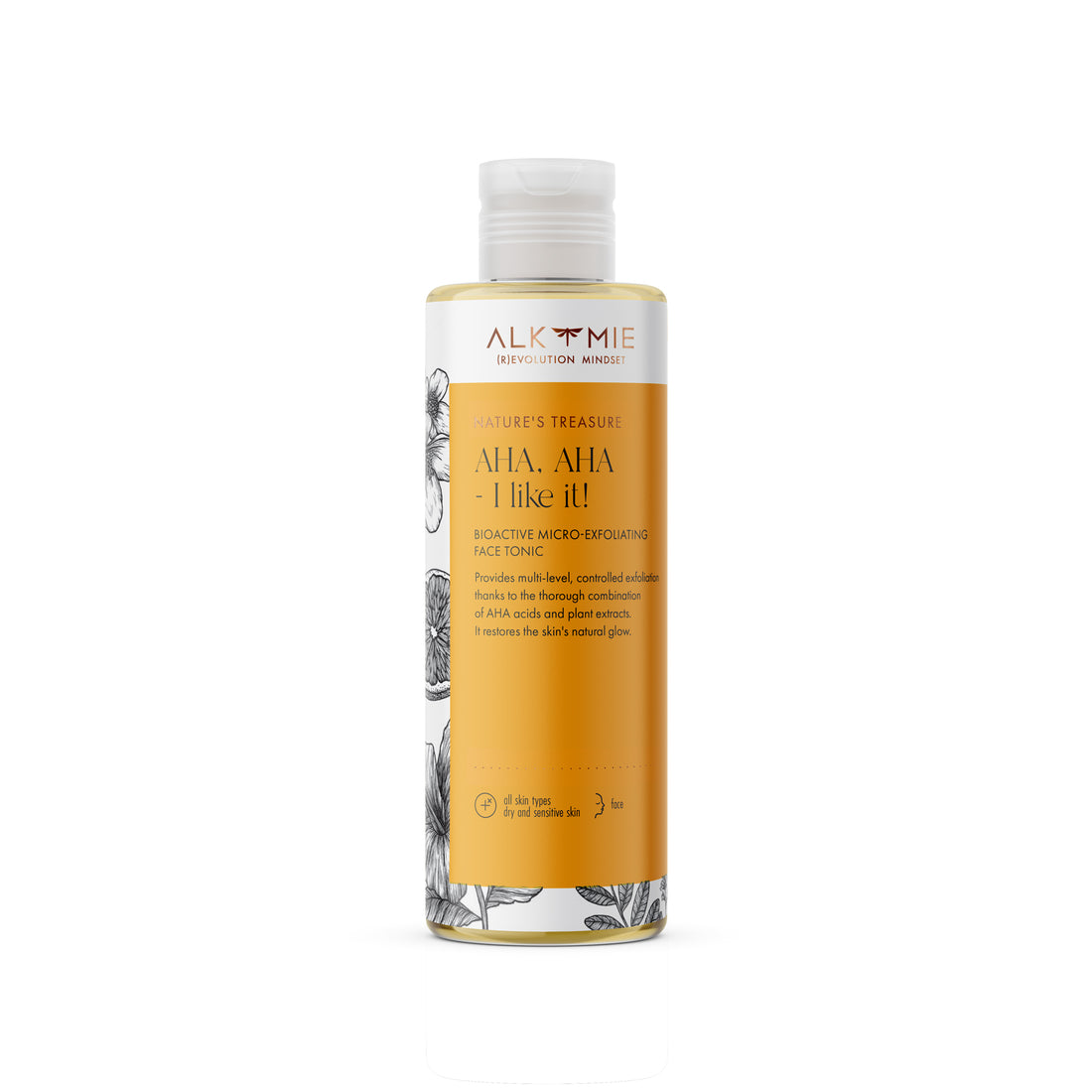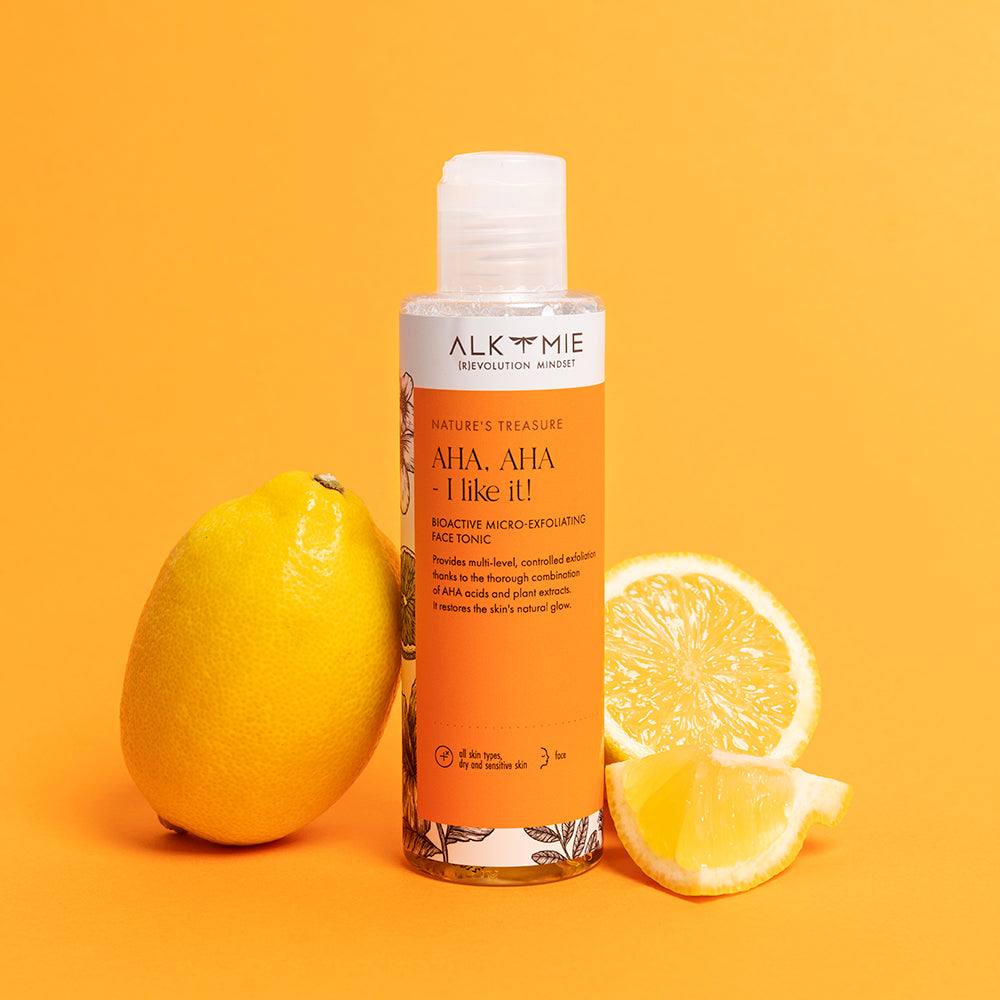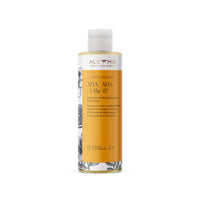 ALKMIE - AHA, HAH I Like It! Face Tonic
ALK.00404
Provides multilevel, controlled exfoliation thanks to the thorough AHA acid combination with plant extracts. It helps to restore skin's natural glow and exfoliate dead epidermis cells in a controlled way, unblocks and tightens pores and reduces the secretion of sebum.
Size: 150ml
◉ Contains 98.69% of natural ingredients
◉ Contains a combination of 7 types of natural acids with exfoliating extracts; natural ones: hibiscus, shikim and organic ones: lactic, glycolic, tartaric, citric, malic
◉ Alpha-hydroxy acids loosen the connections between dead epidermal cells (corneocytes), facilitating exfoliation and stimulating the skin to renew and regenerate
◉ Blueberry, sugar cane, orange, lemon and maple syrup extracts containing natural AHA acids increase the level of hydration and stimulate the skin to produce collagen and elastin
◉ The tonic acts as an activator - it prepares the skin for the next steps of care, increasing the effectiveness and permeability of active ingredients
◉ The unique complex of ten plants, used for generations in Chinese medicine, smoothes the skin tone, reduces existing discolouration and minimises the formation of new ones
◉ Hibiscus acids, by regulating melanin synthesis, reduce skin discolouration. They have the ability to chelate (bind) pollution and heavy metals, thanks to which they are effectively removed from the skin surface.
Aqua*, Pentylene Glycol*, Propanediol*, Lactic Acid*, Glycolic Acid, Vaccinium Myrtillus Fruit Extract*, Saccharum Officinarum Extract*, Citrus Aurantium Dulcis Fruit Extract,* Citrus Limon Fruit Extract*, Acer Saccharum Extract*, Malic Acid, Tartaric Acid*, Hibiscus Sabdariffa Flower Extract*, Panax Notoginseng Root Extract*, Gastrodia Elata Root Extract*, Poria Cocos Extract*, Glycyrrhiza Uralensis Root Extract*, Panax Ginseng Root Extract*, Carthahus Tinctorius Flower Extract*, Salvia Miltiorrhiza Root Extract*, Paeonia Suffruticosa Root Extract*, Scutellaria Baicalensis Root Extract*, Lycium Chinese Fruit Extract*, Magnesium Hydroxide, Caprylyl/Capryl Glucoside*, Sodium Cocoyl Glutamate*, Glyceryl Caprylate*, Polyglyceryl-6 Oleate*, Sodium Surfactin*, Citric Acid*, Parfum, Linalool, Limonene, Citral, Geraniol
The Secret Recipe
HIBISCUS FLOWER EXTRACT
Rich in natural organic acids: citric, malic, hibiscus and shikimic acid. It allows for gentle removal of pollutions from the skin's surface (e.g. it chelates heavy metals that are deposited on it) and stimulates its renewal. It has exfoliating properties comparable to lactic and glycolic acids.
ORGANIC AHA ACIDS
A mixture of acids: citric, glycolic, lactic, malic, tartaric with low irritating potential; effectively exfoliates and accelerates the renewal of epidermal cells. It stimulates regenerative processes, increases collagen synthesis, increases the thickness and firmness of the skin while moisturising it. It illuminates, eliminates discolouration and brightens the skin tone.
FRUIT MICRO-EXFOLIATING COMPLEX
A concentrated mixture of five plant extracts (blueberry, sugar cane, orange, lemon and maple syrup) rich in natural alpha-hydroxy acids with exfoliating properties and strongly moisturising vitamins and mineral salts.
SNOW WHITE COMPLEX
Multifunctional skin whitening and conditioning complex, obtained from 10 traditional Chinese plants: two types of ginseng, high gastrodia, Poria mushroom, Ural liquorice, safflower, red sage, tree peony, Baikal skullcap and wolfberry. It has brightening, antioxidant and anti-ageing properties.
ZEMEA® PROPANEDIOL
Propanediol - a strong humectant (attracts and binds water in the stratum corneum) - intensively moisturises.
Beauty Ritual
Apply a small amount of the face tonic to a cotton pad and wash your face and neck with it, avoiding the eye area. Before using it for the first time, do an allergy test. 
Our tip: While using the face tonic remember to protect yourself from the sun (at least SPF 30).
More Than natural cosmetics
TO BE HONEST, IT'S PURE
ALKMIE is a new generation of active cosmetics. Creating new products, we follow the values that accompany our brand from the very beginning: advanced formulations, the highest quality, and unique ingredients in high concentrations. Welcome to the amazing world of ALKMIE!
Our Philosophy
love it!
My second bottle - I use it to spray on my skin post epilation, love it!
Great product.
Very fast delivery. Highly recommended.
For me it's the top.
Fantastic slightly exfoliating tonic, paired with Alkemie's triple vitamin C serum has already lightened my stains and even out the complexion. Alkemie makes exceptional products, natural and without silicones or other crap but achieves even superior results to much more expensive chemicals.