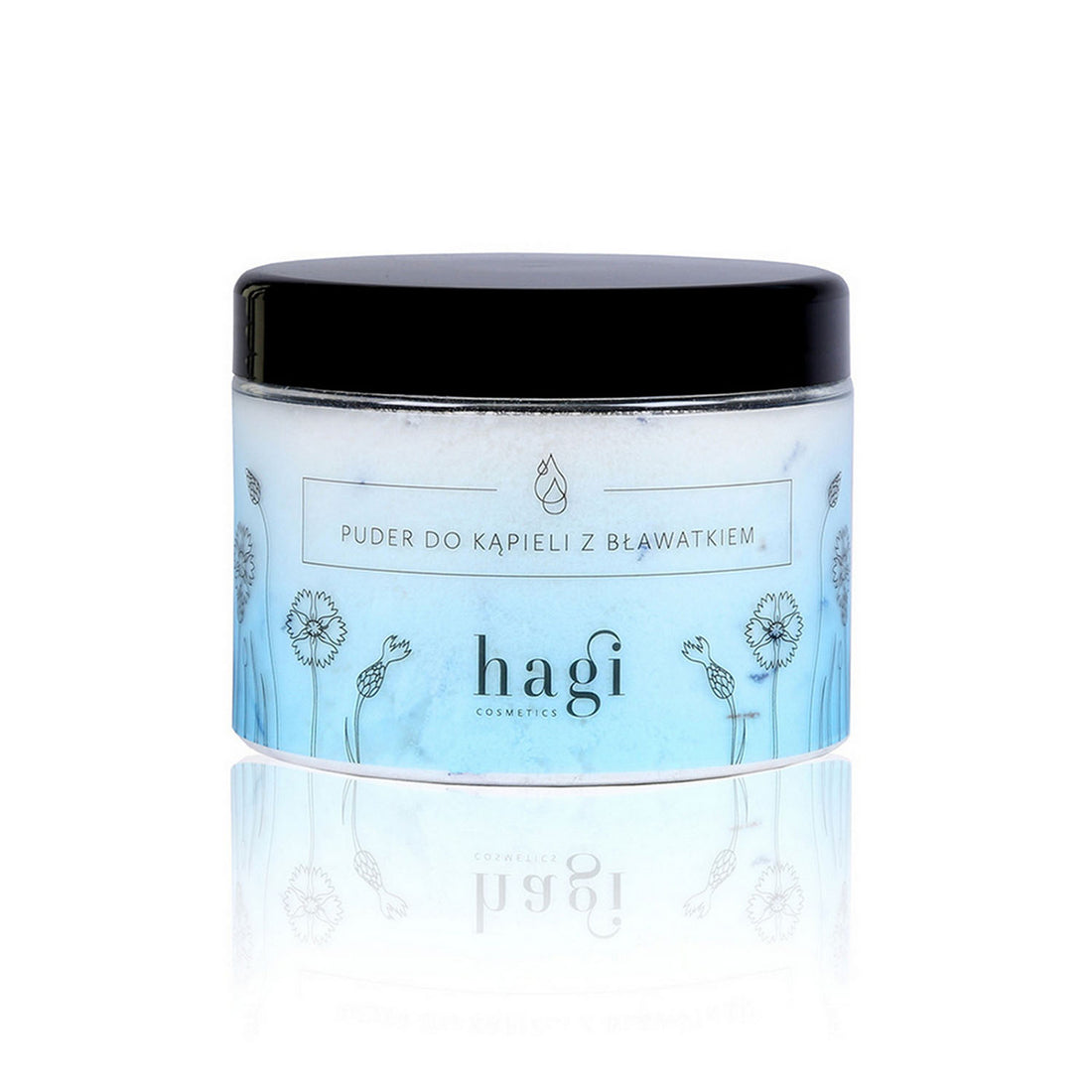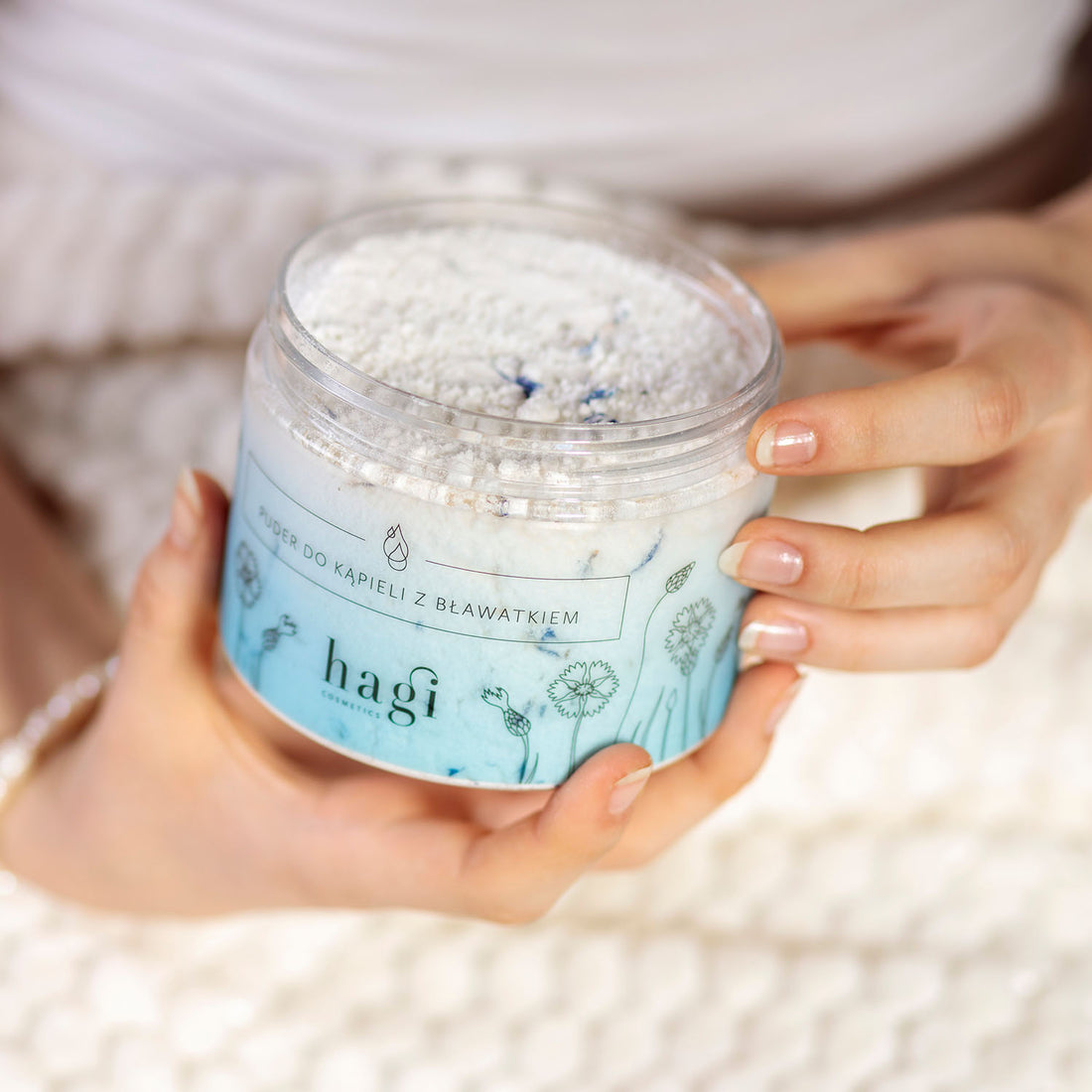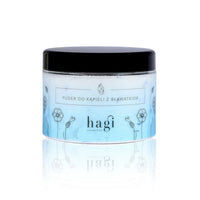 Hagi - Bath Powder With Cornflower
Natural bath powder with shea butter, sweet almond oil and sage, lavender, and grapefruit essential oils. Shea butter contains natural allantoin, vitamin E and EFA. Delicate sweet almond oil conditions the skin, and when combined with grapefruit oil, gives the feeling of nurturing care. The bath is relaxing and cleansing, whilst the essential oil selection refreshes and brings relief to your body and mind.

Effects: Relaxing, helps unwind, soothes and leaves the skin slightly oily
Size: 400g
Sodium Bicarbonate, Citric Acid, Potato Starch, Tapioca Starch, Butyrospermum Parkii (Shea) Butter, Prunus Amygdalus Dulcis (Sweet Almond) Oil, Tocopherol (Vitamin E), Citrus Grandis (Grapefruit) Peel Oil, Salvia Lavandulaefolia (Sage) Oil, Lavandula Angustifolia (Lavender) Oil, Centaurea Cyanus (Cornflower) Petals, Limonene, Linalool
Active Ingredients:
Cornflower
Or bachelor's button, is a popular field weed. Who didn't make flower crowns out of it in childhood? These beautiful blue flowers are a known herbal medicine ingredient used in grey hair toners, in perfume, and the care of cuperose skin. It is also used as an eyewash, and to soothe the skin's allergic reactions. Products containing cornflower are mostly dedicated to children and pregnant women.

Shea Butter
The cold-pressed pulp of the shea tree native to Central Africa. It contains fats, waxes, vitamins, allantoin, terpenes, and sterols. On its own, it is almost a ready-made "skin care cream from Nature." It creates a delicate film on the skin, protecting it from the sun, frost, and wind.

Sweet Almond Oil
One of the oldest known cosmetic oils, it's the foundation of most baby products. It's balanced and delicate composition is perfect for taking care of even very young skin. Rich in vitamins A, E, D and B, it also contains lots of other goodies, such as phytosterols, carotenes and proteins. This skin-nourishing cocktail boosts the hydrolipidic film of the epidermis, limiting moisture loss. It has soothing qualities and absorbs well without leaving a greasy film.
Method of Use
Suitable for sensitive skin.
H-armony | A-ffirmation | G-reen | I-nspiration
Hagi
Hagi is a Polish company, combining love for nature with longterm experience and extensive knowledge of chemistry. Our products respond to the varied needs of a contemporary consumer. They cater for the skin issues resulting from the present-day lifestyle causing allergies, dehydration, and premature aging.
Our Philosophy