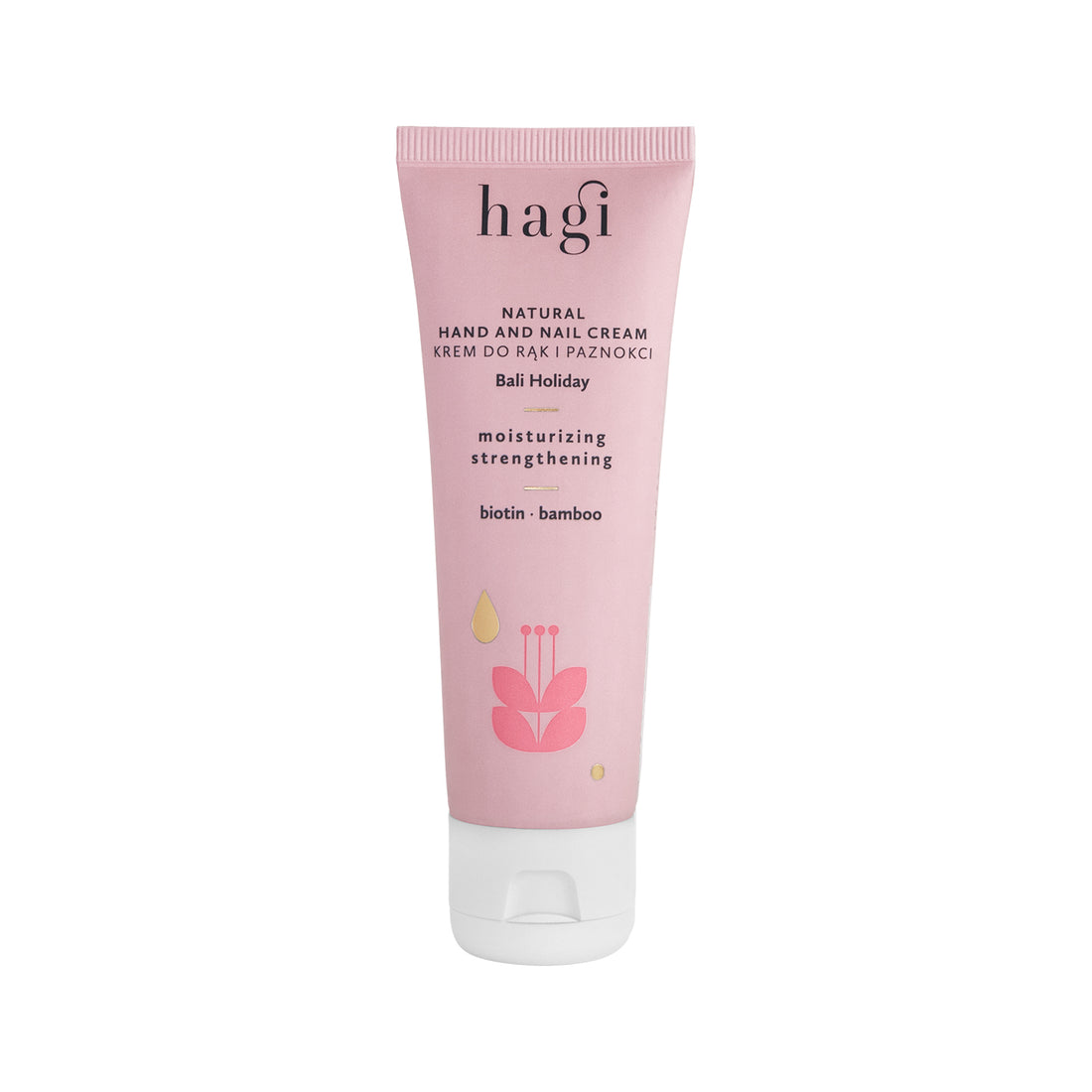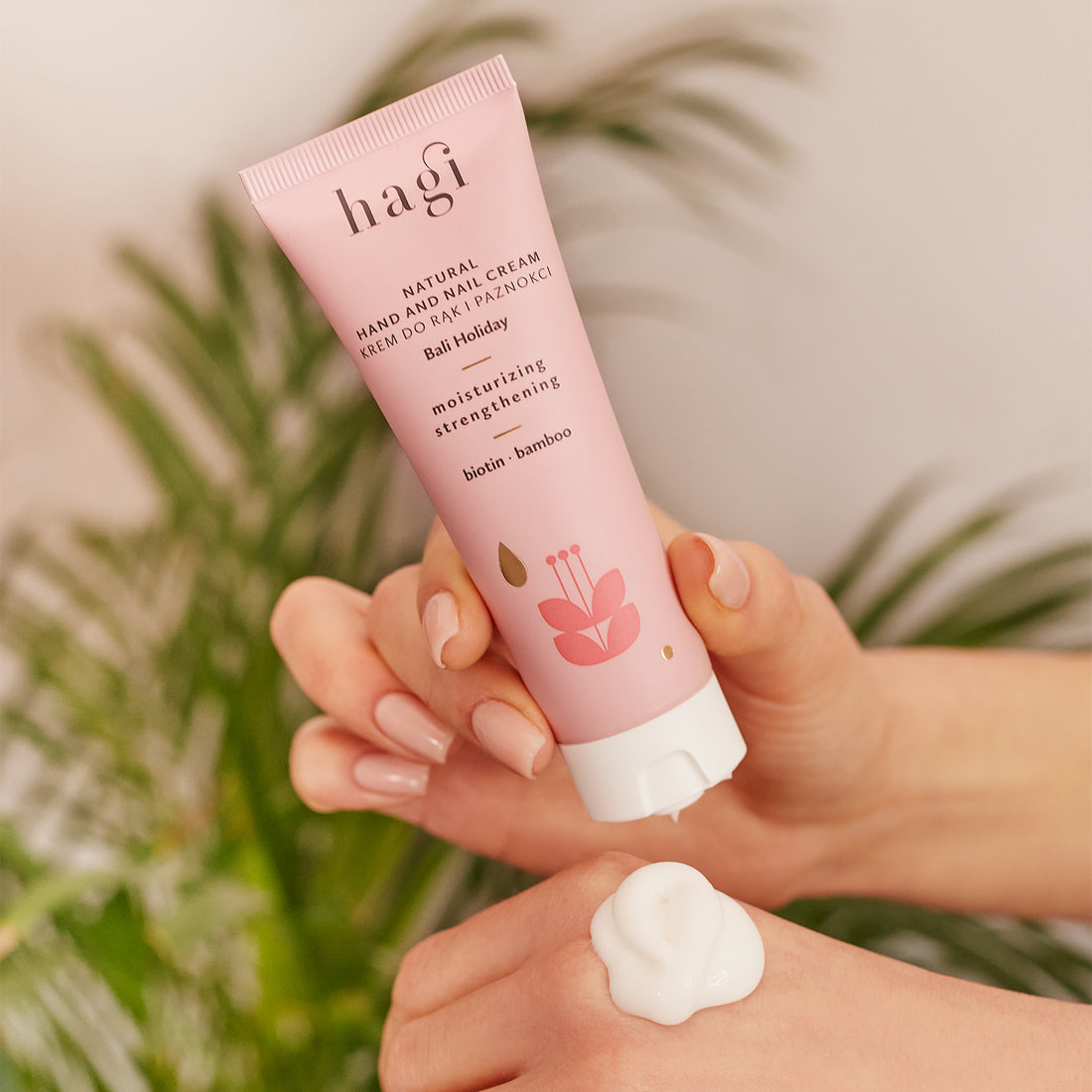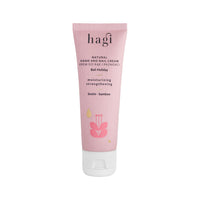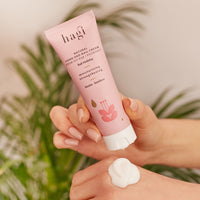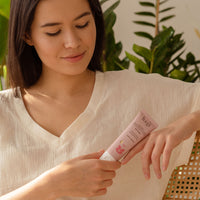 Hagi - Natural Hand And Nail Cream [Bali Holiday]
The delicate skin of the hands is susceptible to harsh weather conditions. Exposed to frost, wind, or contact with dry air, it longs for intensive care and deep hydration. A mixture of ingredients of natural origin will take care of proper hand care and strengthen the nail plate. The exotic scent of the product will make the application more pleasant and stay with you for a long while.
Size: 50ml
Aqua, Cetearyl Glucoside, Butyrospermum Parkii (Shea) Butter, Sorbitan Olivate, Glycerin, Triolein, Oryza Sativa (Rice) Bran Oil, Cetearyl Alcohol, Helianthus Annuus (Sunflower) Seed Oil, Dicaprylyl Ether, Glyceryl Dioleate, Glyceryl Stearate SE, Cocos Nucifera (Coconut) Oil, Hibiscus Sabdariffa (Hibiscus) Flower Extract, Cucumis Sativus (Cucumber) Fruit Extract, Bambusa Vulgaris Leaf/Stem Extract, Salvia Lavandulifolia (Sage) Leaf Oil, Citrus Grandis (Grapefruit) Peel Oil, Cymbopogon Flexuosus (Lemongrass) Oil, Polyglyceryl-3 PCA, Juniperus Mexicana (Cedarwood) Wood Oil, Biotin, Tocopherol (Vitamin E), Xanthan Gum, Phytic Acid, Dehydroacetic Acid, Sodium Benzoate, Potassium Sorbate, Parfum, Benzyl Alcohol*, Limonene*, Citral*, Geraniol*, Linalool*. Contains allergen.
Active Ingredients:
Biotin
Biotin is otherwise known as vitamin H or vitamin B7. Like other B vitamins, biotin plays an important role in maintaining healthy skin. Vitamin B7 moisturizes and smoothes the skin, soothes irritations and strengthens its natural protective barrier. By strengthening the hydrolipid coat protecting the skin, biotin contributes to its lower greasiness and makes it more resistant to harmful environmental factors. By strengthening the hydrolipid coat protecting the skin, biotin contributes to its lower greasiness and makes it more resistant to harmful environmental factors.

Cucumber, Hibiscus and Bamboo Extract
The blend of plant extracts is designed to refresh and revitalize the skin. It not only cleanses but also soothes irritations and firms. Cucumber works not only on the eyes! It is a raw material that soothes and slightly brightens the skin. Hibiscus extract has conditioning effects. It is also recommended after sunbathing. Bamboo is a source of vitamins, silicon and valuable flavonoids that have an antioxidant effect and protect the skin against aging.

Shea Butter
Shea butter is the cold-pressed pulp of the shea tree native to Central Africa. It contains fats, waxes, vitamins, allantoin, terpenes, and sterols. On its own, it is almost a ready-made "skin care cream from Nature." It creates a delicate film on the skin, protecting it from the sun, frost, and wind.

Vitamin E
Vitamin E is one of the so-called "vitamins of youth". Vitamin E used in cosmetics inhibits inflammation, reduces swelling, soothes and moisturizes. It penetrates the epidermis well and builds in the intercellular spaces, providing them with additional nourishment, which can be seen by improving the elasticity of the skin.
Method of Use
Suitable for normal skin. Do not use if you are allergic to any of the ingredients. Store in a cool, dry place.
H-armony | A-ffirmation | G-reen | I-nspiration
Hagi
Hagi is a Polish company, combining love for nature with longterm experience and extensive knowledge of chemistry. Our products respond to the varied needs of a contemporary consumer. They cater for the skin issues resulting from the present-day lifestyle causing allergies, dehydration, and premature aging.
Our Philosophy