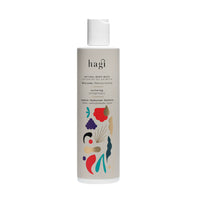 Hagi - Natural Body Wash [Berry Lovely]
If you love a hot summer, filled with the scents of raspberries, blackberries, and strawberries, how about immersing yourself in this sweet and fruity smell? We did our best to pour a bit of sunshine into this bottle, so you can fill your bath with natural ingredients.

Delicate cleaning agents will cleanse your body, while a natural fruit complex containing strawberries, blackberries, and raspberries will gently moisturize the skin and leave it velvety smooth. Plant extracts obtained from blackcurrant buds and pomegranate act like a plaster on irritated skin, while d-panthenol and aloe vera delicately take care of your skin.

Effects: Tonifying, cleansing and regenerating the skin
Size: 300ml
Aqua, Cocamidopropyl Betaine, Sodium Coco-Sulfate, Decyl Glucoside, Glycerin, Panthenol, Inulin, Aloe Barbadensis (Aloe) Leaf Juice, Fragaria Ananassa (Strawberry) Fruit Extract, Rubus Idaeus (Raspberry) Fruit Extract, Rubus Fruticosus (Blackberry) Fruit Extract, Punica Granatum (Pomegranate) Extract, Ribes Nigrum (Blackcurrant) Bud Extract, Alcohol, Tocopherol, Caprylic/Capric Triglyceride, Ascorbyl Palmitate, Ascorbic Acid, Sodium Benzoate, Potassium Sorbate, Dehydroacetic Acid, Benzyl Alcohol
Active Ingredients:
Aloe Leaf Juice
Used in the food and beauty industry, especially in the Canary Islands, where it's the main ingredient of their cosmetics. Extracted from the leaf pulp, aloe leaf juice is a source of many precious substances. The name itself sounds soothing. The moisturizing and calming properties of aloe leaf juice have been known for centuries. Aloe contains mineral substances and vitamins A, C, and B, as well as glycoproteins, polysaccharides that create mucilage, antranoids, and aminoacids. In cosmetics, aloe acts primarily as an enhancer of the protective barrier of the epidermis, a supporter of the skin's healing processes, and as a softening, screening, and dryness-preventing agent. It is a powerfully concentrated "gel serum."

Gemmocalm
It is based on an extract of blackcurrant. It is an active substance with a soothing effect. Heals damaged skin and has the ability to soothe inflammation caused by irritation. Perfectly moisturizes and prevents premature skin aging. It perfectly soothes irritations and supports the regeneration process.

Red Fruit Extract - Strawberries, Raspberries & Blackberries
This unusual fruit mix has a moisturizing effect, which is so important in everyday care. It is characterized by softening and anti-radical properties. Accelerates the regeneration and healing of the skin. The extract is a valuable source of natural fruit acids.
Method of Use
Suitable for normal skin.
Apply the Body Wash Gel to the palm of your hand and lather, then wash all over the body or pour into the bath to create a warming and aromatic bath. Use externally.
H-armony | A-ffirmation | G-reen | I-nspiration
Hagi
Hagi is a Polish company, combining love for nature with longterm experience and extensive knowledge of chemistry. Our products respond to the varied needs of a contemporary consumer. They cater for the skin issues resulting from the present-day lifestyle causing allergies, dehydration, and premature aging.
Our Philosophy