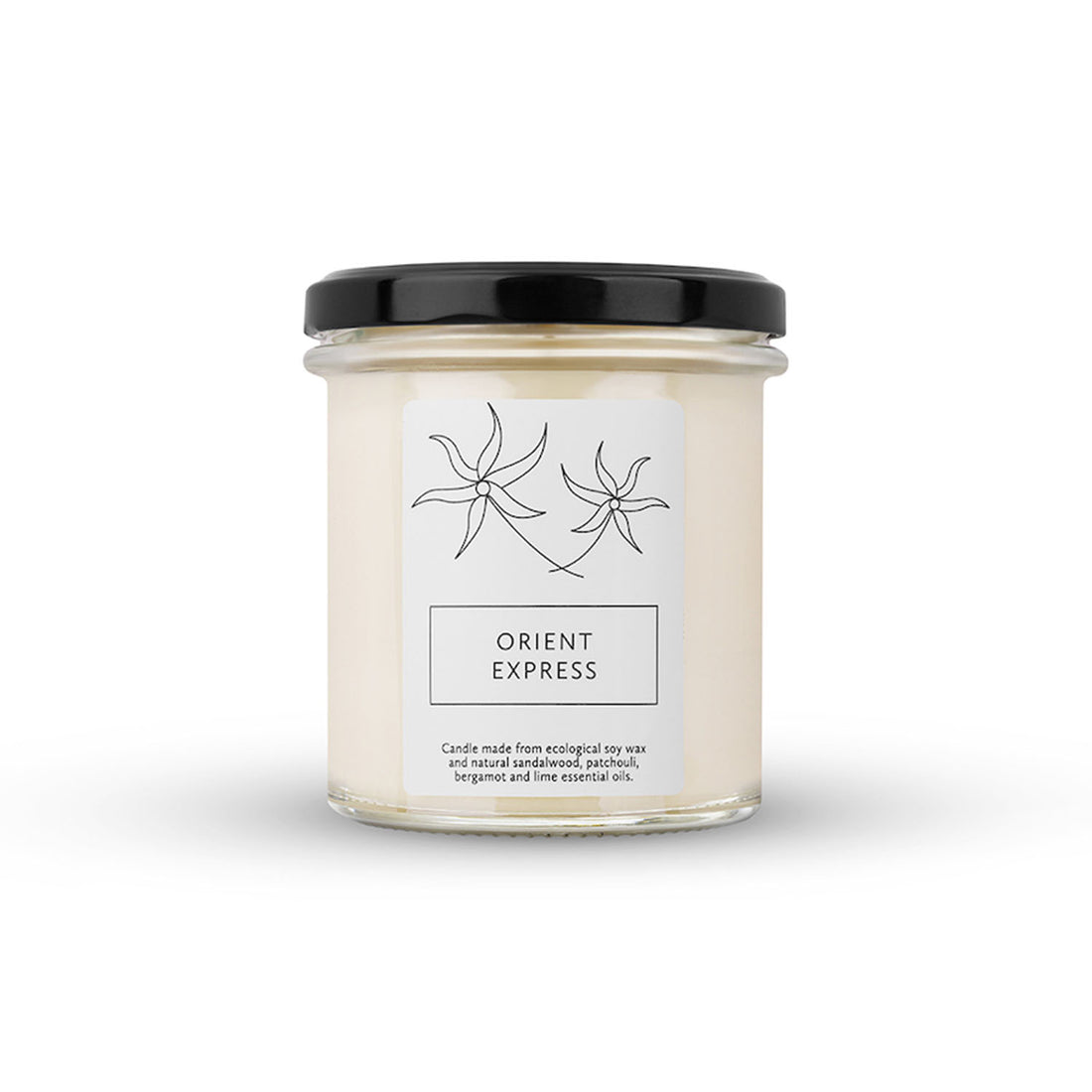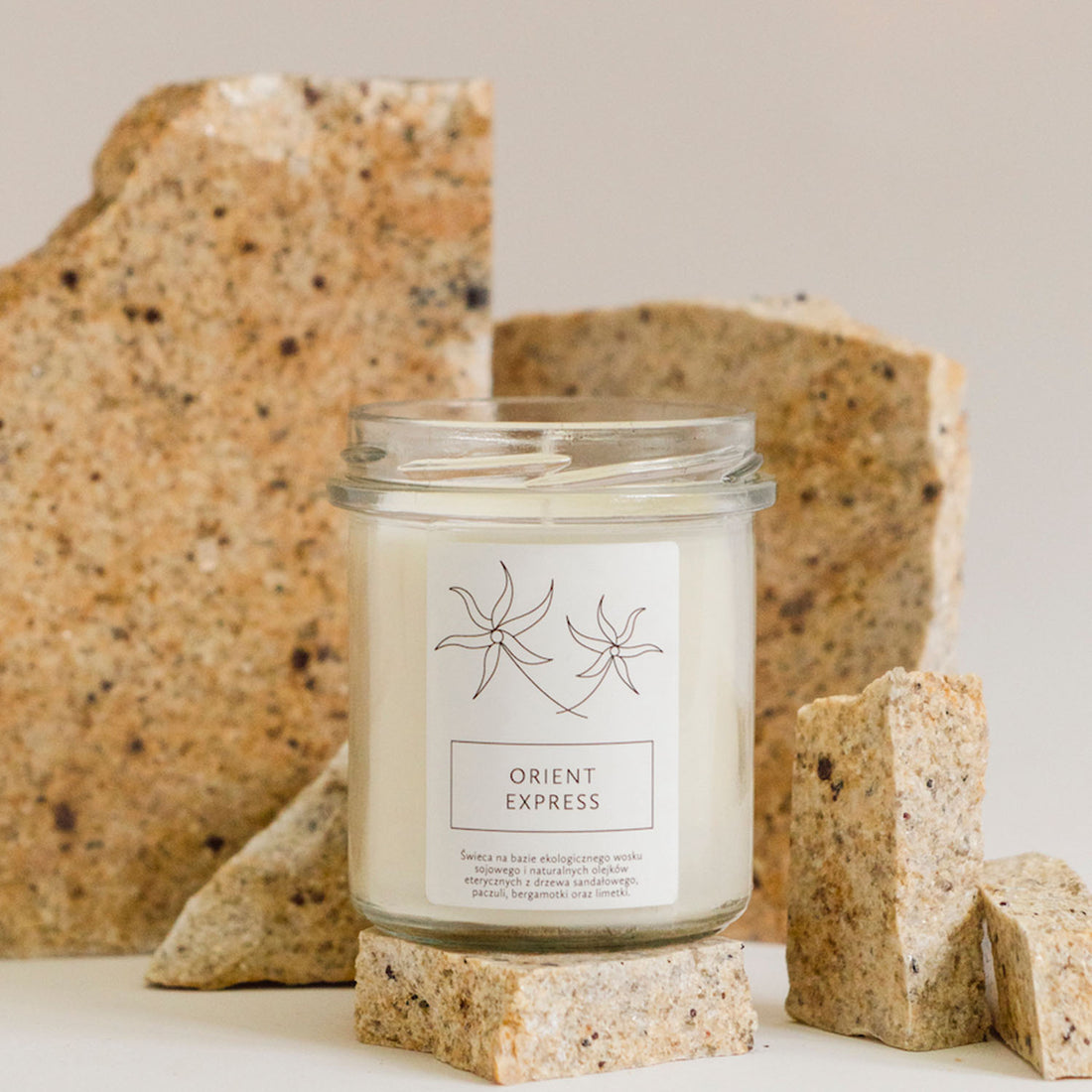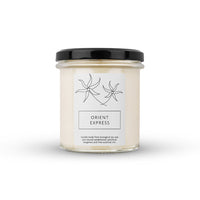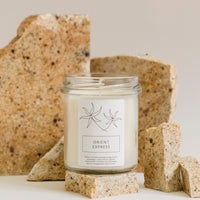 Hagi - Orient Express Soy Candle
Do you want to feel like you are on an elegant, oriental trip? Release the magical scent from our candle made from ecological soy wax and natural essential oils of sandalwood, patchouli, bergamot, and lime. Expertly selected essential oils will calm you down, put you in a meditative mood, help you establish close relationships, and motivate you to take action.
Soy wax burns at a lower temperature than paraffin and does not emit toxins. To avoid tunneling, melt the entire surface of the candle every time it is lit. Trim the charred end of the wick before every use to avoid sooting.
Effects: the mixture of oils ensures an aromatic pleasure, stimulates and invigorates
Burning time: 75 hours
Soy wax, natural essential oils of sandalwood, patchouli, ylang ylang, bergamot and lime
Active Ingredients:
Patchouli Oil
Its woody, earthy, and spicy smell is known from Indian fabrics. This aphrodisiac is used to create sensual perfumes. Obtained through the steam distillation from the leaves of a herb grown in Indonesia, Malaya, Mauritius, and Réunion. Its therapeutic qualities are used in fighting cellulite, urinary tract problems, and acne.

Sandalwood Oil
A remedy for the frayed nerves known for centuries. In incense sticks, it aids meditation and helps create the mood. Used in aromatherapy to ease depression, tension, and anxiety. It also disinfects rooms. Sandalwood, prized for its long-lasting and oriental scent, is an invaluable ingredient in luxury perfumes. It is obtained through the steam distillation of waste wood from an Asian parasite tree called Indian sandalwood that grows on the roots of other trees.

Ylang-ylang Flower Oil
Obtained from the flowers of the cananga tree native to Madagascar, the Comoros, and the Philippines. Known in Indonesia as the wedding night flower and called "the flower of flowers." Thanks to its beautiful, exotic, and sweet scent, it's become an ingredient of many women's perfumes, including the classic Chanel No 5. In many countries it is believed to be an aphrodisiac, but its unique aromatherapeutic properties (calming and lowering blood pressure) are also noteworthy.
WARNING
Do not leave the candle unattended, within the reach of children or animals, or close to inflammable materials. Be careful, as the candle may become hot and cause burns.
H-armony | A-ffirmation | G-reen | I-nspiration
Hagi
Hagi is a Polish company, combining love for nature with longterm experience and extensive knowledge of chemistry. Our products respond to the varied needs of a contemporary consumer. They cater for the skin issues resulting from the present-day lifestyle causing allergies, dehydration, and premature aging.
Our Philosophy