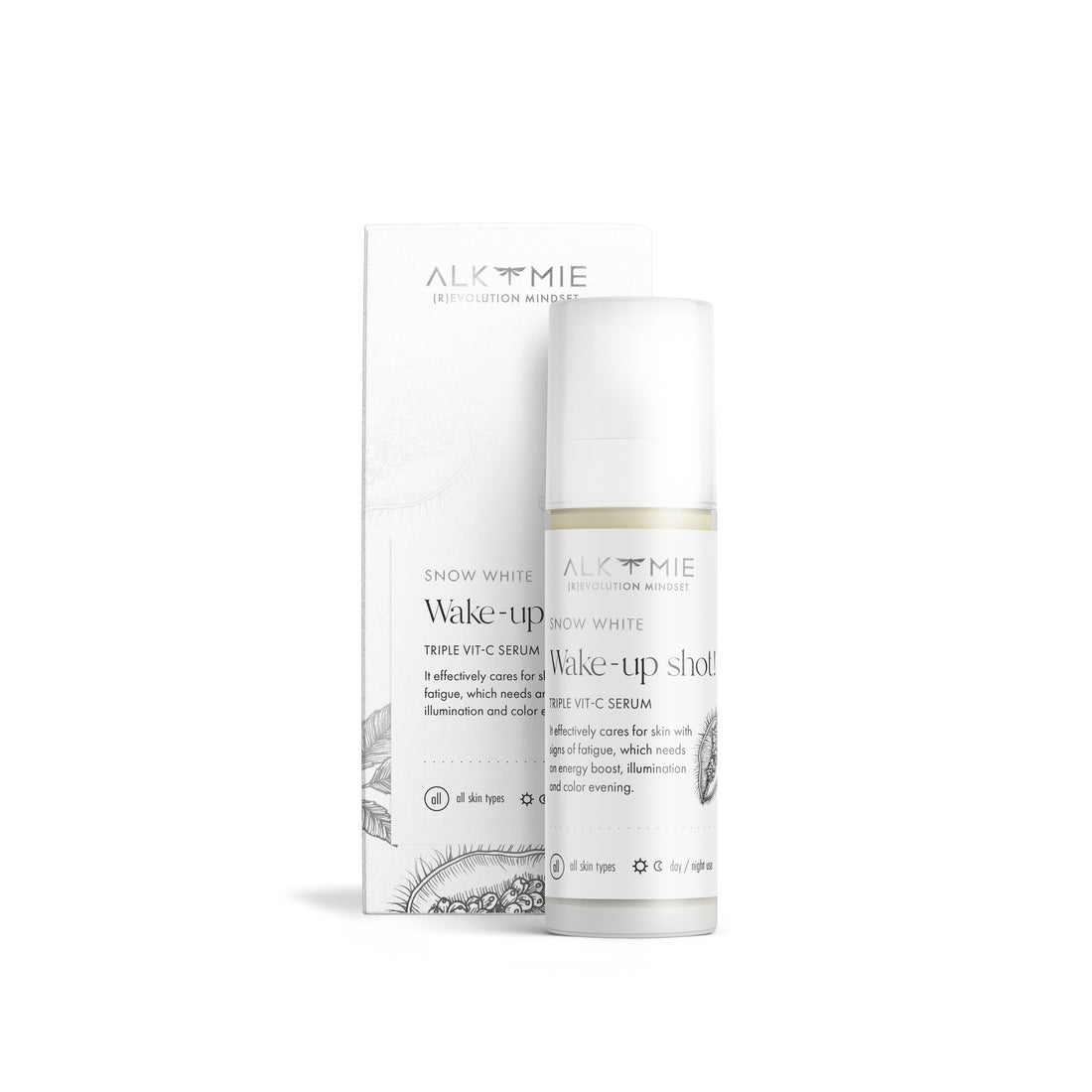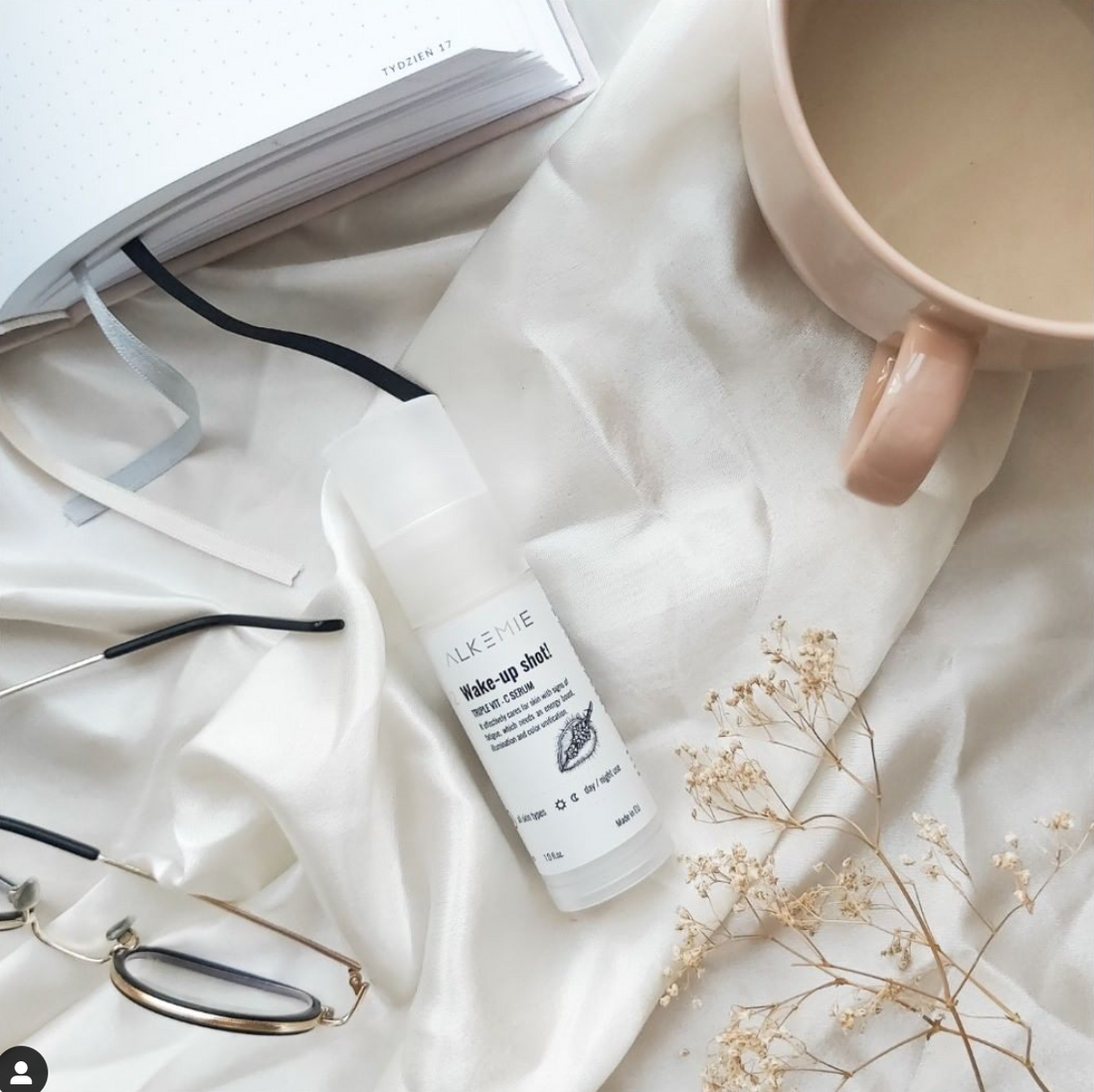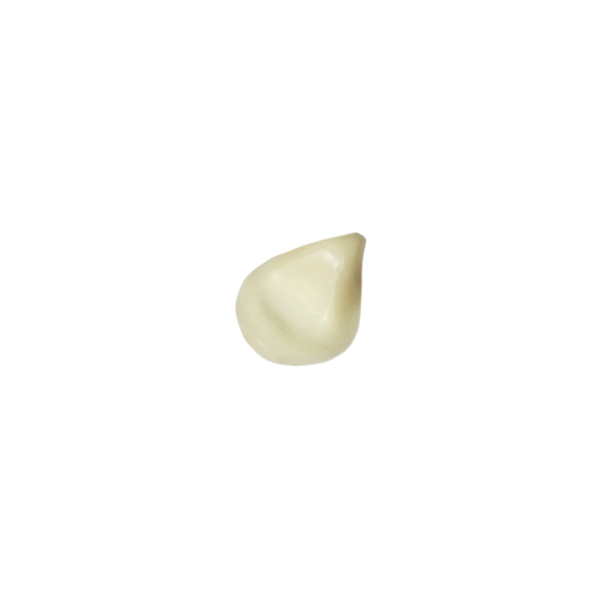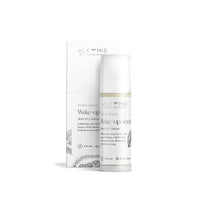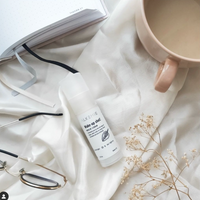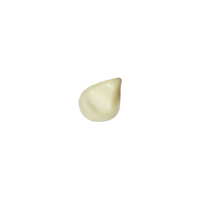 ALKMIE - Wake-Up Shot! Triple Vit-C Serum
ALK.00303
A bio-revitalizing energy shot in the form of a shock serum with triple vitamin C. The high amounts of vitamin C, other vitamins and strong antioxidants allow the serum to improve the look and condition of every skin type, independently of its type or age. It rejuvenates and brightens.
Size: 30ml
◉ Contains 98.8% of natural ingredients (including 5.2% organic)
◉ Vitamin C in three active and stable forms
◉ A texture of a light, creamy emulsion
◉ Immediately stimulates and energises
◉ Firms, accelerates healing, reduce inflammations
◉ Brightens discolourations, strengthens capillaries
Aqua, Isoamyl Cocoate, Ascorbyl Glucoside, Glycerin, L-Arginine, Cetyl Alcohol, C10-18 Triglycerides, Camellia Japonica Seed Oil, Polyglyceryl-6 Distearate, Jojoba Esters, Microcrystalline Cellulose, Cellulose Gum, Benzyl Alcohol, Polyglyceryl- 3 Beeswax, Bixa Orellana Seed Oil, Terminalia Ferdinandiana Fruit Extract, Malpighia Glabra Fruit Extract, Tocopherol, Helianthus Annuus Seed Oil, Xanthan Gum, Tetrasodium Glutamate Diacetate, Dehydroacetic Acid, Parfum, Citral, Citronellol, Geraniol, Limonene, Linalool
The Secret Recipe
EXTRACT FROM KAKADU PLUM
A unique superfruit with the highest content of vitamin C in the world. It combats oxidative stress, enhances the protection of cells against free radicals, and intensifies the synthesis of vitamin C transporters. It reduces wrinkles and restores the fresh look of the skin.
ACEROLA EXTRACT
Also known as Barbados cherry. It has one of the highest natural concentrations of vitamins C, B and PP in the world. It strongly hydrates, enhances the elasticity of the skin and prevents its ageing. It stimulates the process of collagen production and seals blood vessels.
VITAMIN C AA2G
A highly concentrated vitamin C, stabilised with glucose. It activates right away after being applied to the skin and coming into contact with glycosidase, an enzyme present on the skin. Gradually released, it stays active for a long time.
L-ARGININE
Shows very strong skin repairing and healing properties. It enhances the level of urea and, thus, the level of hydration. It opens intracellular potassium channels, accelerating the process of skin regeneration.
ANNATTO OIL
It is considered the best plant antioxidant. It prevents the skin ageing processes and visibly improves the skin condition.
SUNFLOWER OIL
Has soothing properties. It normalises and moisturises the face skin.
JOJOBA ESTERS
It perfectly builds in the skin, acting as a biological compress for micro-damage.
VITAMIN E
Soothes irritation and supports epidermal regeneration.
ORGANIC GLYCERIN
Long-lastingly moisturises and retains water in the epidermis.
Beauty Ritual
For daily use. Once a day – in the morning or evening. Apply a small amount of the serum to cleansed face, neck and cleavage skin, avoiding eye area. Gently massage until it absorbs.
More Than natural cosmetics
TO BE HONEST, IT'S PURE
ALKMIE is a new generation of active cosmetics. Creating new products, we follow the values that accompany our brand from the very beginning: advanced formulations, the highest quality, and unique ingredients in high concentrations. Welcome to the amazing world of ALKMIE!
Our Philosophy
with a greater "wow" effect.
It is very efficient, absorbs quickly. The skin after it is moisturized, slightly illuminated. However, for the price, I expected something more. I used similar cosmetics at a lower price.
Love it!
Skin is definitely better!
My favorite serum with vitamin C.
It has amazing ingredients, perfectly matches makeup, spreads great. My complexion has never been so well illuminated - slight post-acne changes have definitely faded. I recommend it to everyone - a product proportional to the price.
Excellent serum!
Excellent serum, sheer satisfaction. Alkemie is an excellent cosmetics I can only recommend.
My beauty love at first sight!
Wonderful, sensational, shockingly wonderful! My skin loves this serum at any time of the day or night. In the morning, I apply it under the cream, and in the evening under the Skin Superfood elixir (a perfect combination for me). I recommend, recommend, recommend!