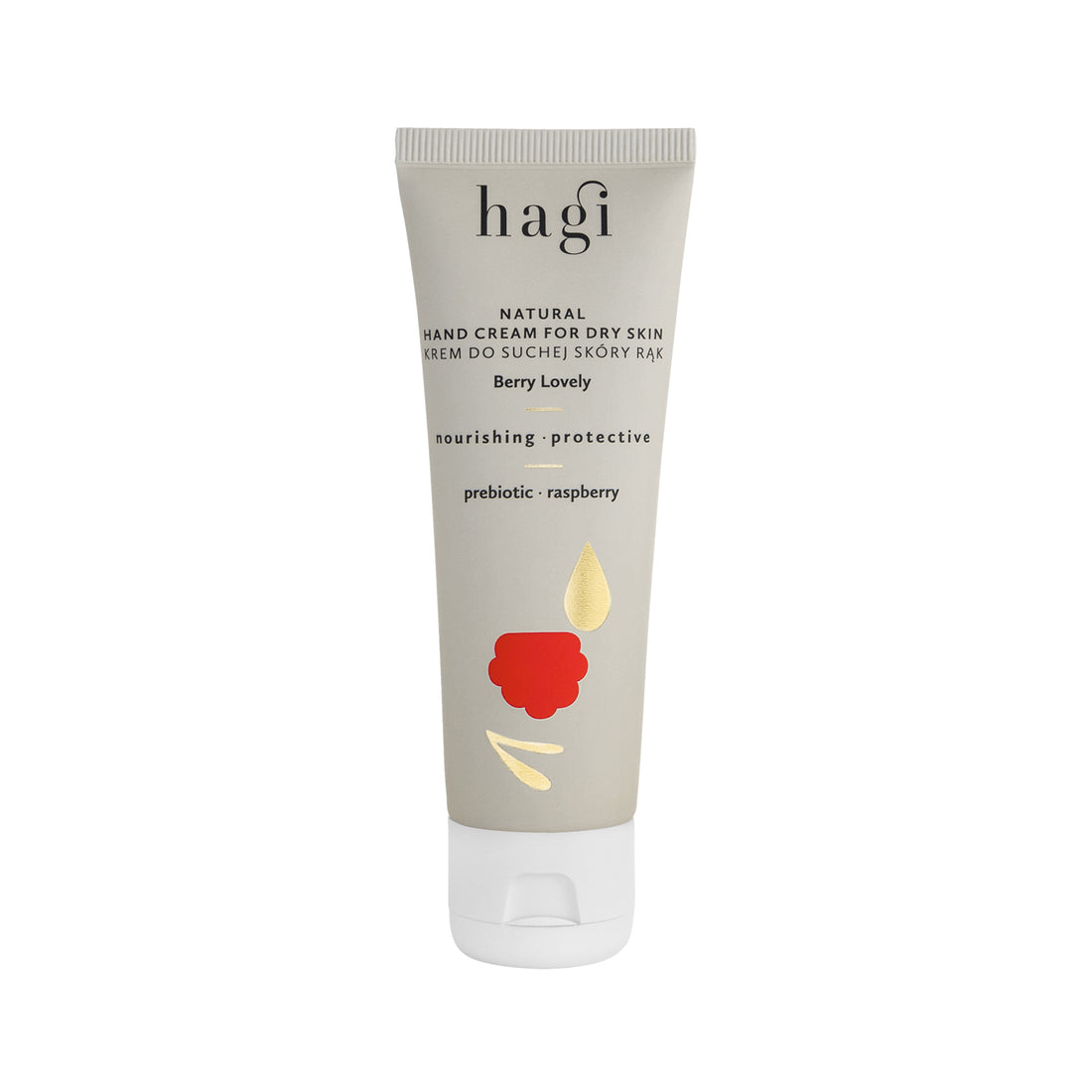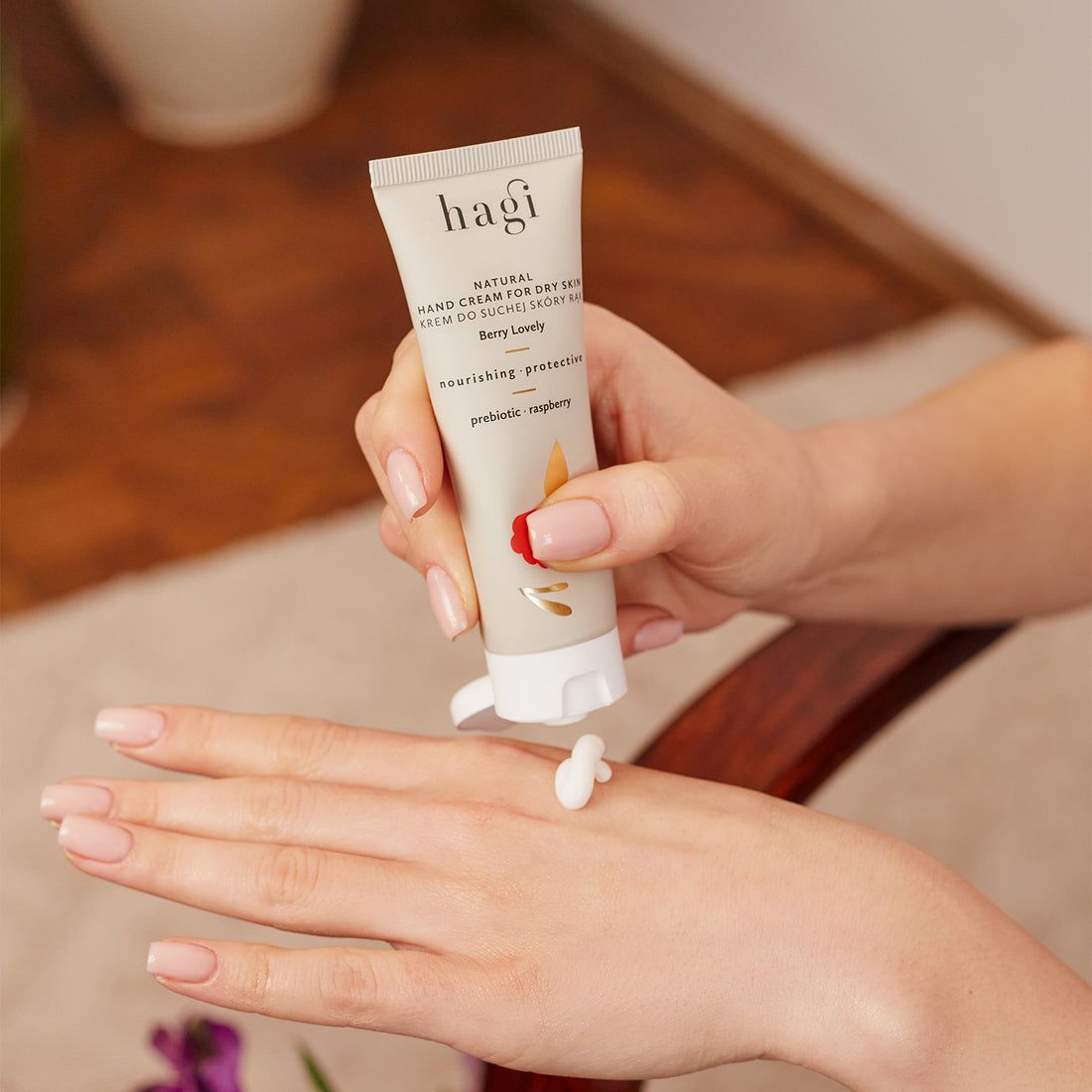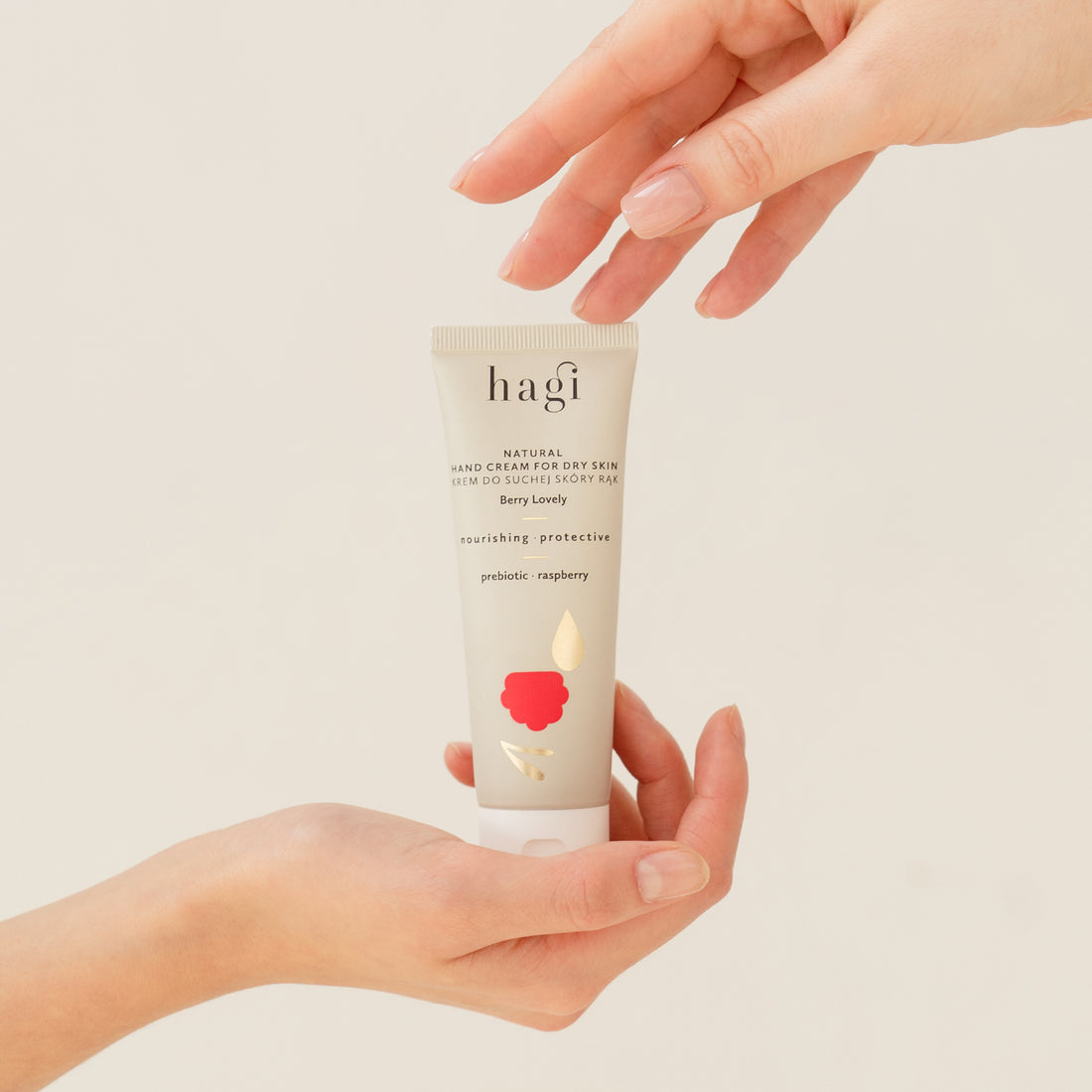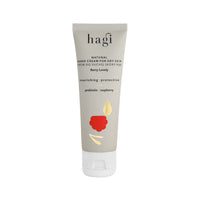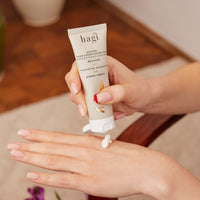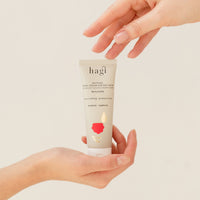 Hagi - Natural Hand Cream For Dry Skin [Berry Lovely]
The delicate skin of the hands is susceptible to harsh weather conditions. Exposed to frost, wind, or contact with detergents, it needs intensive hydration and protection that will act as a wound-healing dressing. Natural hand cream Berry Lovely is a combination of ingredients supporting the skin microbiome and supplementing lipids. The sweet aroma of ripe forest fruits will provide moments of pleasant sensations and will stay with you for a long while.
Size: 50ml
Aqua, Helianthus Annuus (Sunflower) Seed Oil, Dicaprylyl Ether, Butyrospermum Parkii (Shea) Butter, Cetearyl Glucoside, Cetearyl Alcohol, Sorbitan Olivate, Glycerin, Glyceryl Stearate SE, Triolein, Parfum, Oryza Sativa (Rice) Bran Oil, Glyceryl Dioleate, Squalane, Panthenol, Inulin, Rubus Idaeus (Raspberry) Seed Oil, Fragaria Ananassa (Strawberry) Fruit Extract, Rubus Fruticosus (Blackberry) Fruit Extract, Rubus Idaeus (Raspberry) Fruit Extract, Tocopherol (Vitamin E), Xanthan Gum, Phytic Acid, Dehydroacetic Acid, Potassium Sorbate, Sodium Benzoate, Benzyl Alcohol*. *Contains allergen.
Active Ingredients:
Inulin
Although the name of this ingredient sounds exotic, it's extracted from the common chicory. Inulin is a fructan that belongs to polysaccharides, also found in Jerusalem artichoke, among others. This natural and ecological probiotic is used in baby skin care products. It nourishes the development of friendly bacteria, preventing the growth of harmful ones. Thanks to this quality, inulin enhances the natural protective barrier of the skin and maintains it in a good condition.

Panthenol
The miraculous dressing for every irritation, injury, and redness. It works like a plaster, speeding up the healing process. A precursor to vitamin B5, it is quickly absorbed by the epidermis, skin, and hair, where it is turned into its active form. Regenerates and smooths dry, itchy and tanned skin. Panthenol is also absorbed by the nail plate, moisturizing it and adding to its flexibility.

Red Fruit Extract -Strawberries, Raspberries and Blackberries
This unusual fruit mix has a moisturizing effect, which is so important in everyday care. It is characterized by softening and anti-radical properties. Accelerates the regeneration and healing of the skin. The extract is a valuable source of natural fruit acids.
Method of Use
Suitable for normal and dry skin. Do not use if you are allergic to any of the ingredients. Store in a cool, dry place.
H-armony | A-ffirmation | G-reen | I-nspiration
Hagi
Hagi is a Polish company, combining love for nature with longterm experience and extensive knowledge of chemistry. Our products respond to the varied needs of a contemporary consumer. They cater for the skin issues resulting from the present-day lifestyle causing allergies, dehydration, and premature aging.
Our Philosophy