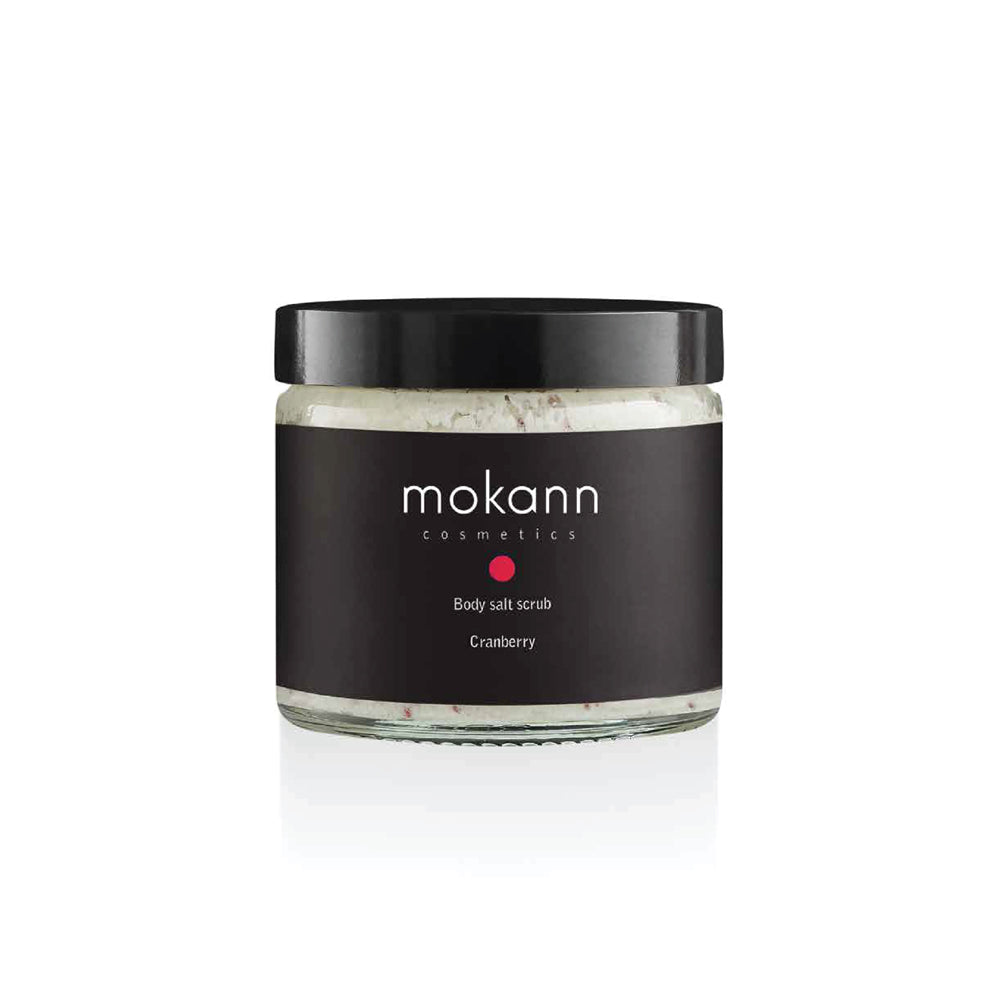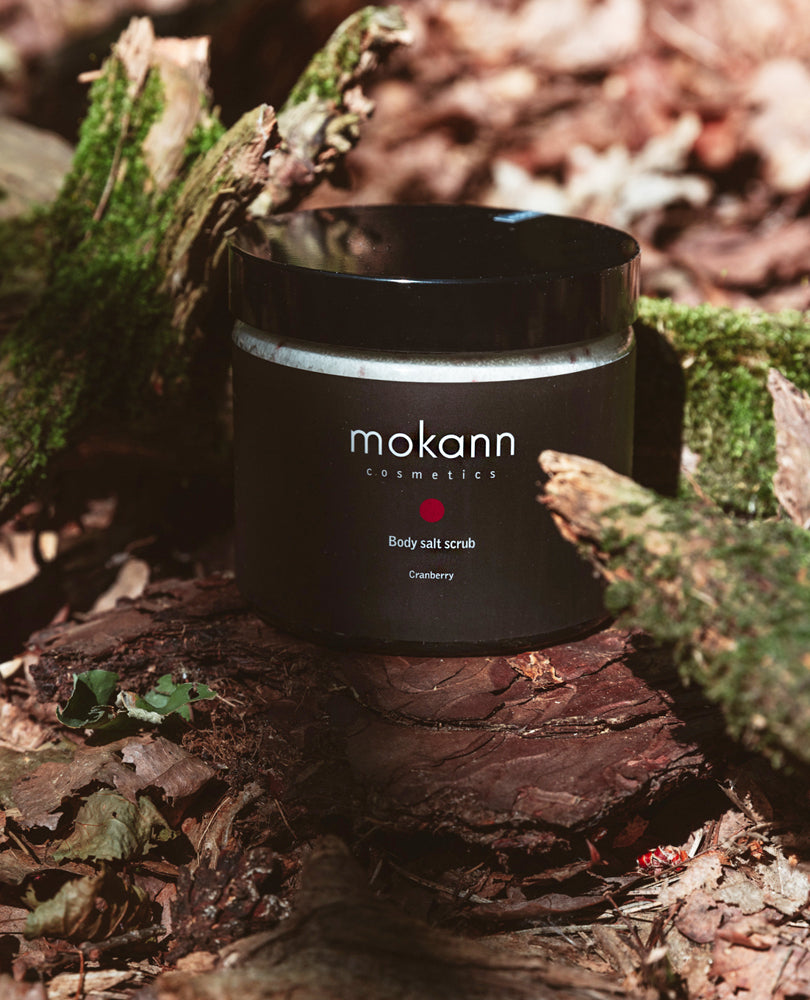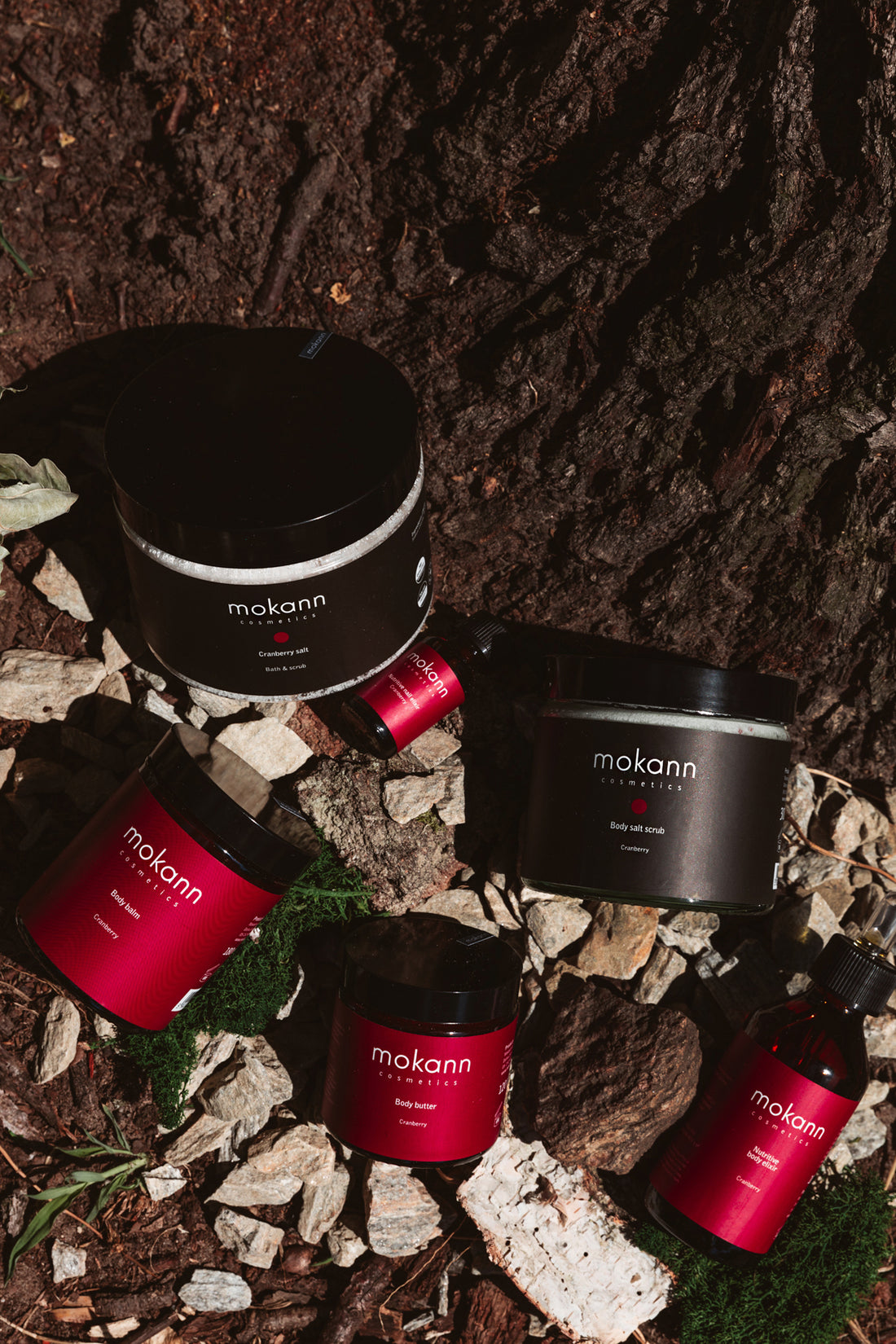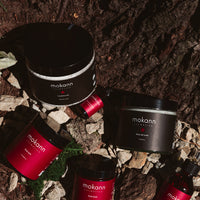 MOKANN - Body Salt Scrub [Gently Moisturise - Cranberry]
A Dead Sea salt scrub with freeze-dried cranberry seeds and antioxidant-rich cranberry oil cleanses, smoothes and nourishes the skin. Natural shea butter and precious plant oils: argan, jojoba, evening primrose and sweet almond oil moisturize and gently lubricate the skin, while active ingredients contained in the scrub additionally tighten and regenerate it. Vitamin E contained in the scrub has an antioxidant effect. The skin is tightened, and smooth after applying the scrub.

Size: 300g/250ml
Ingredients (INCI): Maris Sal, Prunus Amygdalus Dulcis (Sweet Almond) Oil, Butyrospermum Parkii (Shea) Butter, Vaccinium Macrocarpon (Cranberry) Seed Oil, Argania Spinosa Kernel Oil, Jojoba Esters, Vaccinium Macrocarpon (Cranberry) Seed, Simmondsia Chinensis (Jojoba) Seed Oil, Glycerin••, Oenothera Biennis (Evening Primrose) Seed Oil, Parfum, Tocopherol, Helianthus Annuus (Sunflower) Seed Oil, Limonene•

• Fragrance composition component
•• The raw material of plant origin
Active Ingredients:
• Dead Sea salt
• Shea butter
• Evening Primrose oil
• Cranberry Seeds oil
• Argan oil
• Jojoba oil
• Sweet almond oil
• Vitamine E
Method of Use
Apply a small amount of scrub to damp body skin and massage in circular motions. Then rinse off without cleanser.
Discover the effectiveness of natural care. Feel harmony, pleasure and allayment.
Meet Mokann
MOKANN is recognizable among every lover of natural care. It is awarded continuously for its ambitiously refined compositions with proven action, beautiful fragrances, glass packaging, design and transparency in communication.

Our Philosophy
MOKANN - Body Salt Scrub [Gently Moisturise - Cranberry]
孕婦友好🕊
因為去唔到做激光脫毛,怕影響胎兒,唯有只可以在家用傳統刮刀清理手毛腳內,而磨砂膏就好適合刮毛前用,減少毛囊發炎,而MOKANN身體護理磨砂膏含有天然死海鹽晶體,天然又做到磨砂作用,又含乳木果油等珍貴植物油,對於孕婦真係好適合,滋潤又保濕,十分適合有在家刮毛習慣嘅女生,在刮毛前先使用,減少毛囊發炎。
非常有驚喜嘅產品
<MOKANN身體護理磨砂膏>係一款讓我非常有驚喜嘅產品,無諗過佢嘅質地咁柔滑,同自己之前試用過嘅身體磨砂產品唔同; 另外,今次試用嘅Cranberry(蔓越莓)磨砂膏,氣味更加係非常、非常之香,用後留下淡淡嘅天然香氣。而產品裏面嘅天然乳木果油和珍貴植物油成份,更加讓我喺使用產品後好似塗上潤膚膏一樣,十分滋潤。
Body scrub is good
"I like the scent of it, so relaxing
And i dont need to put on body cream after using it
Feel so smooth and it also brighten the skin abit"
冬天用佢更加好!好滋潤
MOKANN 蔓越莓身體護理磨砂膏,開罐後聞到甜甜蔓越莓既味道,濕身後將磨砂膏打圈塗抹身體,由其手踭同膝蓋位置,背脊我用洗澡巾左右拉洗,感覺係覺得有d"笠"既,但係用完,我出奇地覺得皮膚好似有層保護膜咁,手腳皮膚沒咁崩緊,摸落去係光滑左,去左角質層同死皮都白左少少,我覺得冬天用佢更加好,因為真係覺得好滋潤。