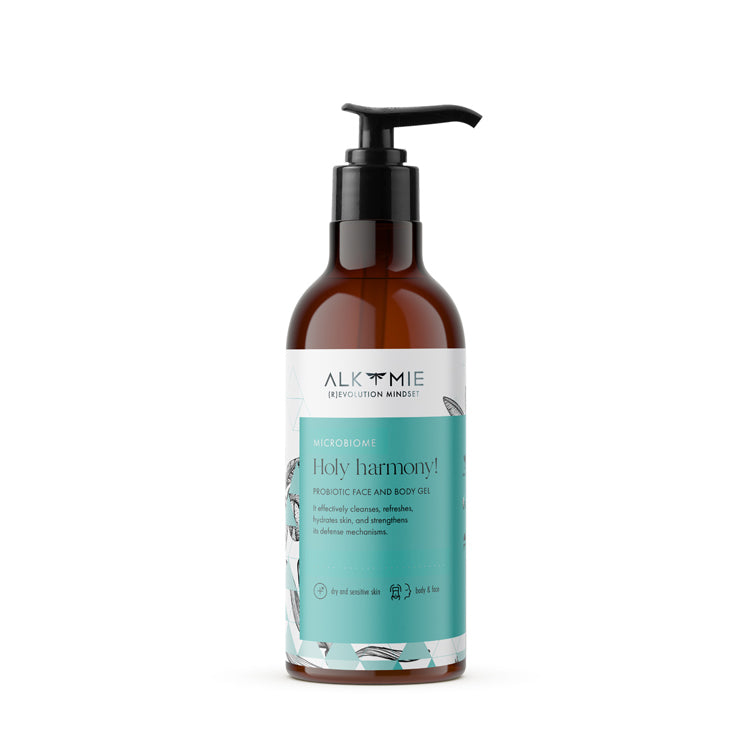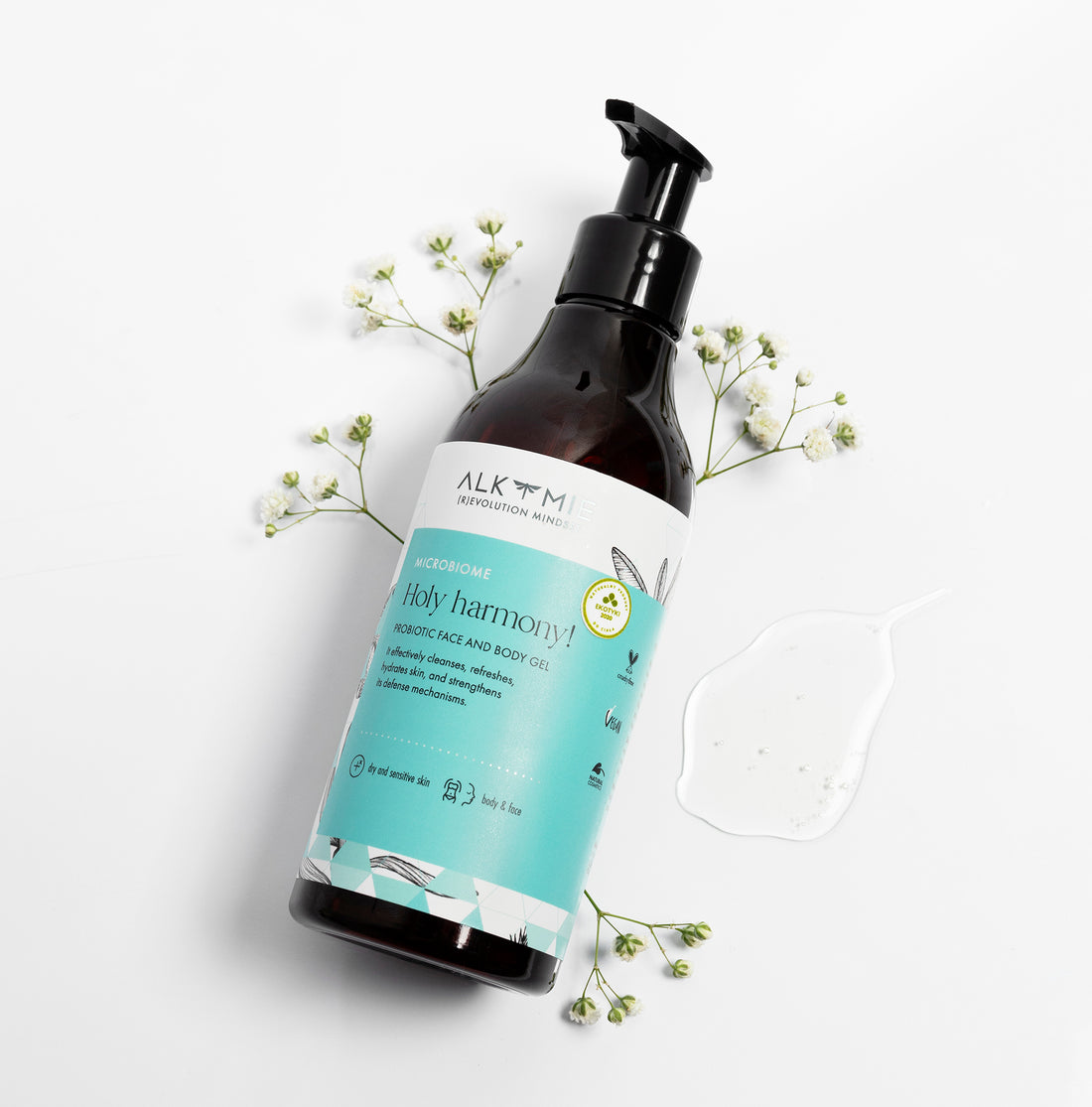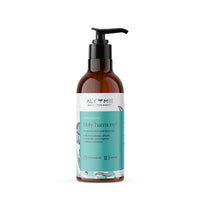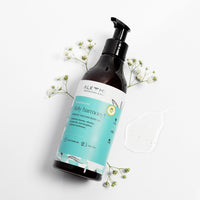 ALKMIE - Holy Harmony - Probiotic Face And Body Gel
ALK.00206
Holy harmony is an exceptionally skin-friendly face and body cleansing gel with prebiotic and probiotic, soothing and regenerating ingredients. Designed for delicate skin prone to inflammations & in need of support in the fight against dryness, hypersensitivity & inflammations.

Size: 250ml

◉ Contains 98% of natural ingredients
◉ Rinses up to 70% more dust and heavy metals than standard cleansing cosmetics
◉ Based on natural, plant washing substances, it provides thorough and comfortable skin cleansing without upsetting its natural, physiological balance
◉ The delicate jelly form is very efficient and foams well. It doesn't cause skin tightening or dryness. It leaves a pleasant feeling of hydration and freshness
◉ Immediately soothes itching, burning and tightness of the skin. It relieves all irritations and redness
◉ Strong anti-oxidative and anti-allergic effects
◉ Builds the natural immunological protection of skin and strengthens its basic defence functions
◉ Contains the bioactive complex of 7 herbs which provides multidirectional regenerating and care effects
◉ It is perfect for the care of every skin type, also prone to atopy, couperose, prone to irritation and allergic reactions
Aqua, Ammonium Lauryl Sulfate, Cocamidopropyl Betaine, Betaine, Butanodiol, Coco-Glucoside, Glyceryl Oleate, Glycerin, Centella Asiatica Extract, Alpha Glucan – Oligosaccharide, Polygonum Cuspidatum Root Extract, Polymnia Sonchifolia Root Juice, Scutellaria Baicalensis Extract, Maltodextrin, Camellia Sinensis Leaf Extract, Lactobacillus, Glycyrrhiza Glabra Root Extract, Chamomilla Recutita Flower Extract, Rosmarinus Officinalis Leaf Extract, Tasmannia Lanceolata Fruit Extract, Glyceryl Caprylate, Tetrasodium Gluatmate Diacetate, Sodium Benzoate, Parfum, Potassium Sorbate, Citric Acid, Limonene
The Secret Recipe
THE COMPLEX OF PREBIOTICS & PROBIOTICS
An innovative combination of the yacon root extract, prebiotics and probiotics, enables you to maintain a proper ecosystem on your skin. It provides the skin with well-balanced physiological functioning.
TASMANIAN MOUNTAIN PEPPER
An extract from Tasmanian mountain pepper berries with instant calming and anti-inflammatory effects, which seals blood vessels. It reduces swellings, redness and the burning sensation. 
BIOACTIVE COMPLEX OF 7 HERBS
A mix of plant extracts (tiger grass, liquorice, Matricaria, Japanese knotweed, rosemary, green tea, Baikal skullcap). It constitutes the "biological protective shield" that prevents the negative effects of polluted environment, detergents and other irritants. It reduces redness, itching and erythema.
Beauty Ritual
Apply a small amount of gel on damp face or body skin. Massage for a while, then rinse with warm water. If gel gets into your eyes, rinse them thoroughly with water. After cleansing and drying of the skin, apply a selected cream or butter. The gel can also be used for cleansing the scalp and intimate hygiene.
More Than natural cosmetics
TO BE HONEST, IT'S PURE
ALKMIE is a new generation of active cosmetics. Creating new products, we follow the values that accompany our brand from the very beginning: advanced formulations, the highest quality, and unique ingredients in high concentrations. Welcome to the amazing world of ALKMIE!
Our Philosophy